Allowing your staff to work remotely can be a great way to boost employee satisfaction, improve productivity, and score loads of "cool boss" points. On the flip side, remote work carries cybersecurity risks and can cause employees to feel disconnected from one another and the company culture. If you want to do remote right, you need to give your employees the right tools. Here are some of our favorites.
1. Google Workspace:
If you could pick only one tool to enable remote work, it should be Google's Workspace (formerly G Suite). It's hard to beat for versatility, security, and simplicity. Many employees use G Suite in their personal lives, so they're already familiar with it. That ubiquity is an asset, not an indicator that you need something more cutting edge.
For as little as $6 per user per month, Google Workspace features a plethora of tools, including corporate email accounts with custom addresses that have the exact look and feel (and therefore ease of use) as personal Gmail accounts. Other offerings like Meet video, voice conferencing, and Google Drive eliminate the need for additional subscriptions like Zoom and Dropbox, making this an incredibly cost-effective package. A host of other features allow employees to effortlessly create and collaborate on documents, slideshows, spreadsheets, and many other work products.
2. Asana:
Top concerns for remote managers include reduced productivity and decreased employee satisfaction, despite findings to the contrary in a Chicago Booth School project exploring remote work. Project management platforms address both of these issues without being overbearing. They keep managers in the loop about work progress while helping remote employees feel connected and organized.
Choosing among the many project management tools such as Basecamp, ClickUp, Monday.com, and Trello can be like picking a Ben & Jerry's flavor. But if Ben (or maybe it's Jerry) can reveal their most popular flavor (Half Baked), then we can guide you toward one of the most popular management tools: Asana.
Nearly 9,000 users have given Asana an average of 4.4 stars out of 5 on the software reviews site Capterra. Asana offers a wide range of features within one attractive system. With customizable ways to track and visualize project progress, Asana makes it easy to manage work remotely and get everyone moving in the same direction. Best of all, Asana has both free and paid versions, so if your company's needs are simple, it might not cost you a dime.
3. Amazing Marvin:
Most project management platforms are designed for teams. Marvin, by contrast, is geared to individuals. Marvin's designers incorporated behavioral psychology principles to help people stop procrastinating and thus enhance their productivity. This platform is ideal for remote employees who need more personalized tools. Marvin's competitors include Todoist, Remember the Milk, and Habitica, which treats your daily to-do list like a videogame. But the endless ways you can configure Marvin to match your personal work style make it truly, um, amazing.
That said, personal management software isn't for everyone, so companies should consider offering a flexible stipend that employees can use to purchase Amazing Marvin or whatever tools help them perform their best remotely.
4. Free Conference Call:
Because they can't hold in-person meetings, remote workers rely heavily on conference calls. Some of these platforms can be a bit clunky, but not Free Conference Call, which gives remote employees a flexible, easy way to set up and access domestic and international conference calls from their own devices.
The software also can be used for video conferences, but considering that "Zoom fatigue" is real, plain ole audio-only meetings can be a nice change of pace. (Who'd a thunk conference calls could sound refreshing?)
Plus, as the name makes clear, the tool is free, though it operates on a pay-what-you-can model with suggested pricing. Still, if you're a lean startup or going through a cash flow rough patch, you can gain access to quality conferencing services without having to pay.
5. Culture Amp:
With a remote workforce, managers and HR staff sometimes struggle to assess the health of their company culture. Without in-person interactions, issues like whether employees are getting along with their colleagues or feeling a sense of connection with the company might not be as easy to spot.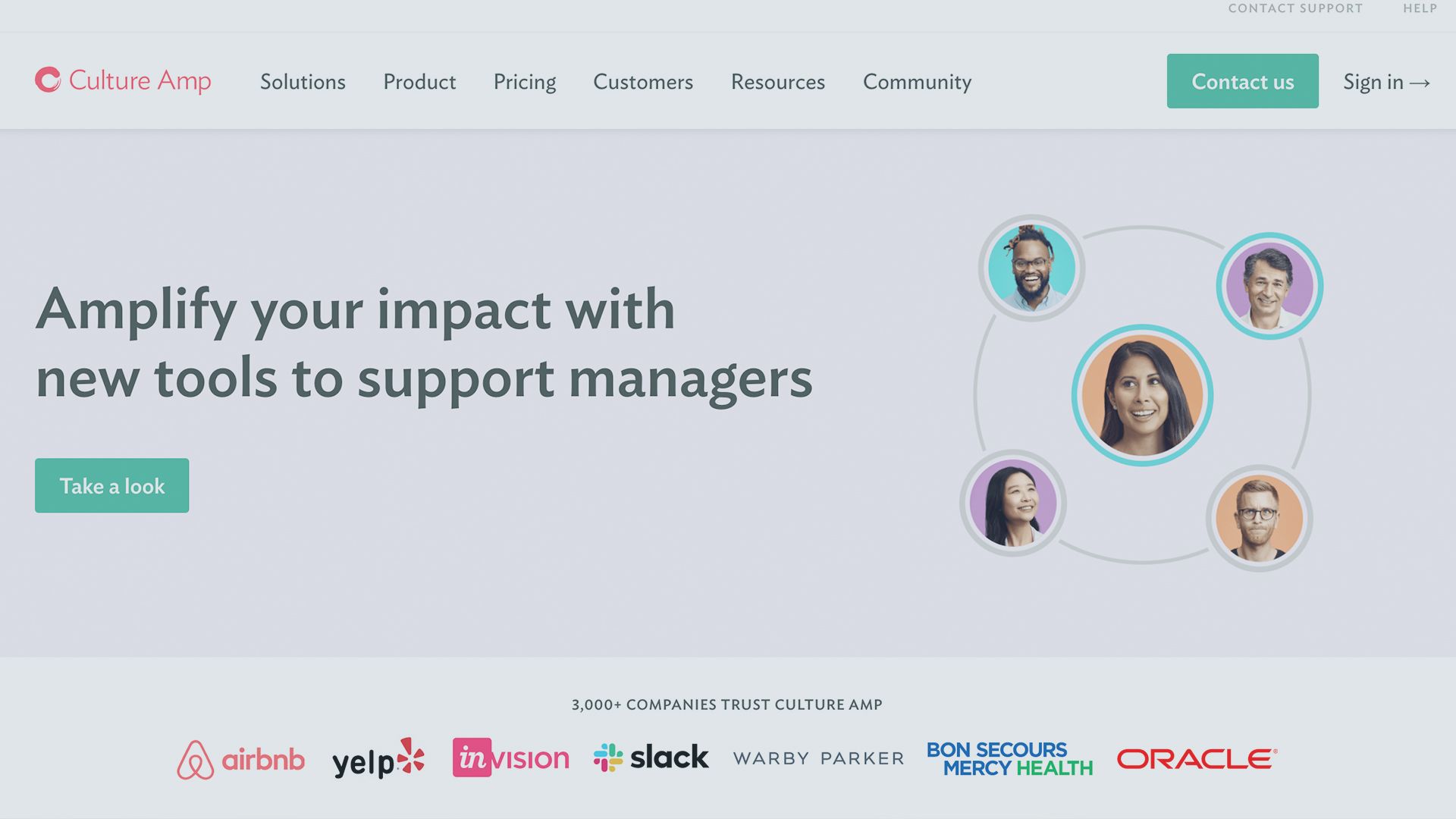 More than a third of remote employees see isolation/loneliness as a challenge, according to a March 2020 Gitlab survey. So companies need to be aware and solicit ideas from employees on how to solve these challenges.
Tools like Culture Amp make it easy to collect and analyze employee feedback that can be used to improve company culture, increase employee retention, and create a better overall remote-work environment.
The price is higher than some other remote work tools, but if it helps reduce employee turnover and leads to a more satisfied workforce, then the investment ultimately can lead to significant savings.
6. Duo:
Remote work creates cybersecurity risks. For example, employees might access websites and use devices differently than they would in an office where everyone shares the same network; home internet security may be less robust. In addition to protections such as using a virtual private network (VPN), companies should consider tools like Duo, which can make remote access easier and safer.
IT teams can use Duo to establish access policies for employees using their own devices. If an employee's smartphone doesn't have passcode protection, for example, Duo blocks that device from accessing certain applications, which reduces the risk of a lost or stolen device being used to view sensitive corporate data.
Duo offers a free version as well as more robust paid options.
7. LastPass:
You want employees to set secure passwords, but good luck getting them to memorize them all. Passwords can be even trickier for remote workers, who sometimes log in to applications from personal devices. Password management tools like LastPass help employees easily store their passwords and log in securely from multiple devices. Users can even remotely share passwords with colleagues, without having to send a drone with a coded message.
Personal users can sign up for LastPass for free, while business users pay only a few dollars per month per user, depending on the specific plan.
Technology alone can't create a great remote work environment. Any tool is only as good as the people who use it. Companies need to make sure their employees feel comfortable using any new technologies. But if chosen carefully to addresses each company's unique challenges, each of these tools will help your employees succeed while working remotely.