Remote jobs are more plentiful than ever if you have the right tools. Learn how to craft your resume for remote job openings and search for your next job now.
So, you're bosses have said you must return to the office, but you are determined to work remotely. Where do you begin?
Searching for remote jobs might seem daunting, but trust us, there's never been a better time to find a role you can do from anywhere.
Here's how to kickoff your job search, whether you want to work remotely with a local company or work from anywhere with a global company.
1. Decide What Type of Remote Work You're Looking For
Depending on your role and your needs, you may be more interested in full-time or freelance/project-based work.
Full-time remote positions with benefits and security were were once hard to find. They are now available in droves, according to MSNBC. Freelancing, on the other hand, tends to be more plentiful and allows you to pick and choose your projects—and usually set your own hours. It may also pay more than full-time work, with the caveat that you probably won't be eligible for spendy benefits like health insurance or a 401(k).
But if benefits are a must for you, staffing agencies like Creative Circle might fit the bill. Though agencies take a cut of your wages, the perks they offer (often including paid vacation and sick days, plus access to job training) and the convenience of finding work through their listings can be worth the hit.
2. Go to Platforms Advertising Remote Work Opportunities
The online platforms you're already using—LinkedIn, Indeed, and so on—give you the option to filter your search to display only remote opportunities. Even better: Check out job sites focused specifically on remote work, starting with the wrkfrce Jobs board. (We hope you find your dream gig right here! But just in case, other options include Pangian, SolidGigs, and more.)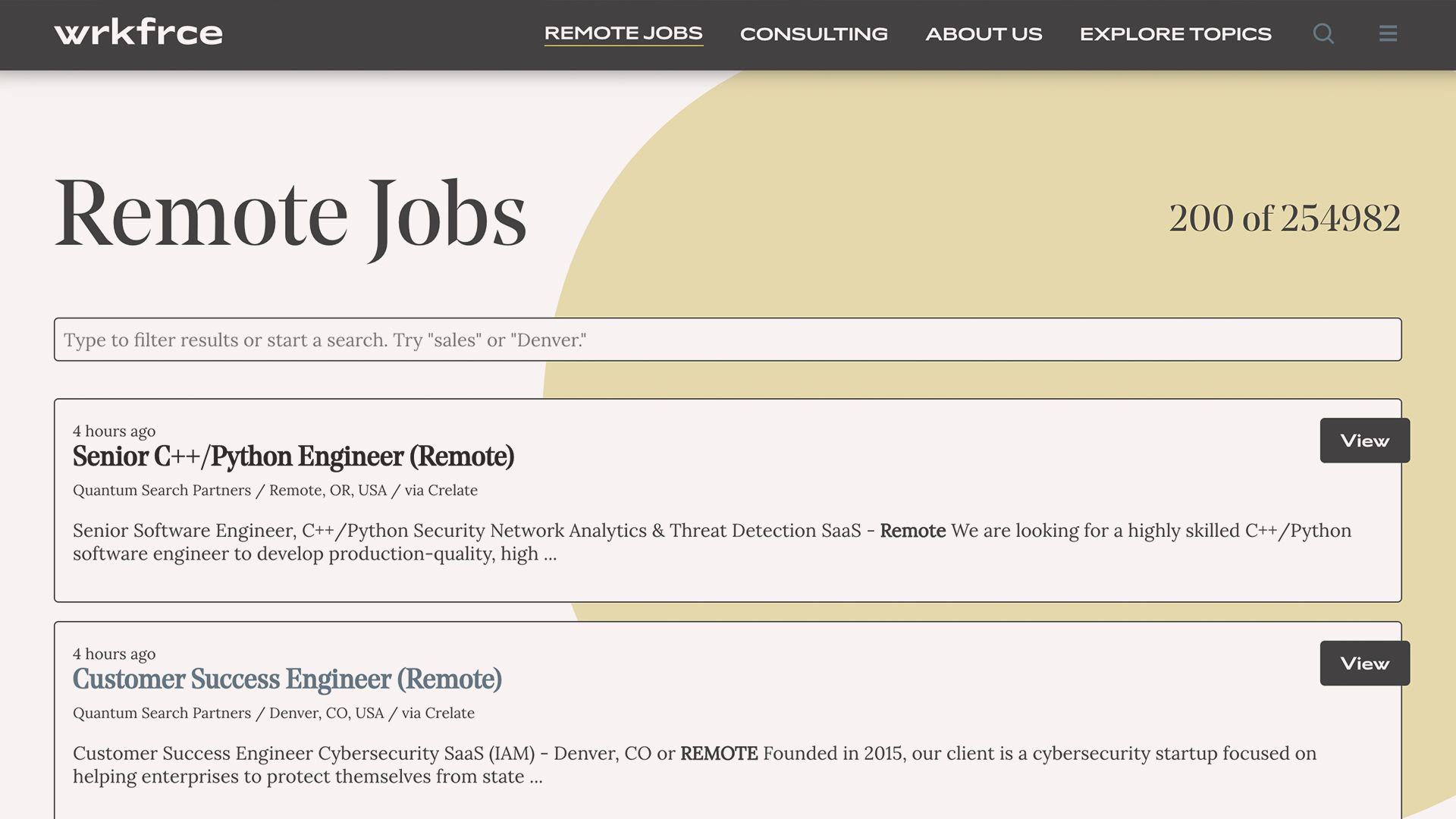 Depending on your field, you may also find niche sites that cater to you. Reporters and freelance writers gravitate to JournalismJobs.com, for instance, while those in the tech industry favor Dice.
Social media platforms can be surprisingly helpful, too. If you're a freelance writer, keep an eye on your Twitter or Facebook feed for journalists and editors who post about needing freelance support; if you're quick on the uptake, assignments can follow. Major companies frequently have dedicated job-posting profiles on social media, too—for example, check out the IBM Careers handle on Twitter.
3. Be Flexible
If you're looking for remote work, odds are you're a flexible person. That adaptability can come in handy during your search.
Staying open to different kinds of roles and projects will increase your chances of finding a job or landing a freelance gig. Accepting an initial trial assignment—no matter if it pays a little less or takes you outside your comfort zone—might lead to more long-term work. But even if the project just nets you a new contact, the goodwill you'll build with that person will make them more likely to keep you in mind for future gigs.
Being willing to work odd days or times—and perhaps sporadic hours for clients with busier and slower periods—can help set you apart from the pack as well.
4. Prepare for the Downsides of Remote Work
Working remotely may seem ideal, but the pandemic helped us all learn some of the challenges. Separating work from other aspects of your life can prove difficult: When you live and work in the same space, the opportunity to work will always be present and can quickly lead to burnout. (The Great Resignation didn't happen for nothing.) Or you might find that focusing and staying productive while working from home is tough.
Over at Forbes, Melody Wilding suggests that adjusting your expectations when you start to work from home is a good strategy for keeping yourself sane.
"During a typical work week, it's likely you waste up to two to three hours a day at the office. When you work from home, that changes. Distractions, like your boss swooping by your desk, suddenly disappear. As a result, you'll be more productive in less time," Wilding writes.
"Adjust your expectations of yourself accordingly. Don't hold yourself to sitting 'butt in chair' for the same 40 hours a week as you would in the office," she adds. "And don't feel guilty if the same work that used to take you eight hours now only takes you four or five."
5. Have a Specialized Resume and Cover Letter Ready to Go
As grueling as it may be, you'll ned to put together a resume and cover letter that highlight your strengths for each job that interests you. But for remote positions, take it to the next level: Focus on the specific skills you have that would help you succeed in such a role, such as flexibility and an adaptable personality. These will make you a remote work rock star.
Plugging a polished paragraph about your remote work skills into cover letters can help you save time when you're applying for several roles at once. But make sure to tailor the rest of each letter—and your resume to the position you're applying for.
Whether working remotely sounds like your dream scenario or an endurance challenge, you'll never be sure until you try—and now is the perfect time. Just take your job search step by step, and you'll be Zooming into a virtual stand-up before you know it. Good luck!