From your resume, to standing out from the crowd, to nailing the interview, here are our tips for how to get hired for the highest paying remote jobs of 2022.
Remember when most people went to the office to work? What a difference two years (and a pandemic) can make. How much difference? Based on a study, Stanford Professor Nicholas Bloom found that more than 40 percent of US employees would look for another job or simply resign if they were required to return to the office full time.
The slightly less good news: your competition for those remote jobs just went up. Way up, as in an increase of 460 percent in job searches for remote work, according to Glassdoor.
If you love your home office and are recovering from the Great Resignation, follow these tips to improve your chances of getting hired for some of the best paying jobs of 2022.
Step 1: Overhaul That Resume
If you're like most of us, your resume reflects your pre-pandemic experience. The hiring managers today work for remote/hybrid environments, and they want to know you can and will function well with the team. When drafting your resume, make sure to:
Feature your success (as opposed to experience) working in, overseeing, or organizing remote teams.
Document your capacity to thrive in diverse groups, using words like virtual, remote, self-directed, and distributed workforce.
Quantify your in-office, hybrid/remote working experience (e.g. the technology you've learned how to use), the challenges you faced, and how you overcame them.
Your goal is to emphasize this information to find a position that is the right fit for you.
Look out for the slush pile!
Nothing personal, but potential employers look for ways to reduce the piles of resumes they receive. Your task is to get past the applicant tracking system (ATS) or other screening devices to make sure humans see your resume. Here's how:
Apply only for positions you are qualified for. The ATS AI scans your resume to look for the position's required skills and qualifications. If you don't have them—goodbye, resume! AI has no mercy.

Keep your resume simple. Avoid tables, lines, text boxes, graphics and images. Consider developing a scannable resume designed to be read by a machine and a human.

Use the right keywords in the correct context. Keywords in your resume should match the job description. Remember AI is used for a reason, and deliberately confusing them might cause an uprising! Limit the number of times you use a single keyword to avoid being red flagged by bots and recruiters.

Upload the correct file type. If you send a PDF when the job ad asks for a Word document, you've seriously wasted your time.
PRO Tip:
When preparing a remote job resume, use a resume checklist.
Step 2: Search the Remote Job Market
Your resume is ready to go. Now, where are the jobs?
The wrkfrce job board is a perfect place to search for the best remote jobs of 2022, including full-time, or long-term, contract-based remote work. Remember to scout for companies that are remote-first or offer remote-friendly jobs.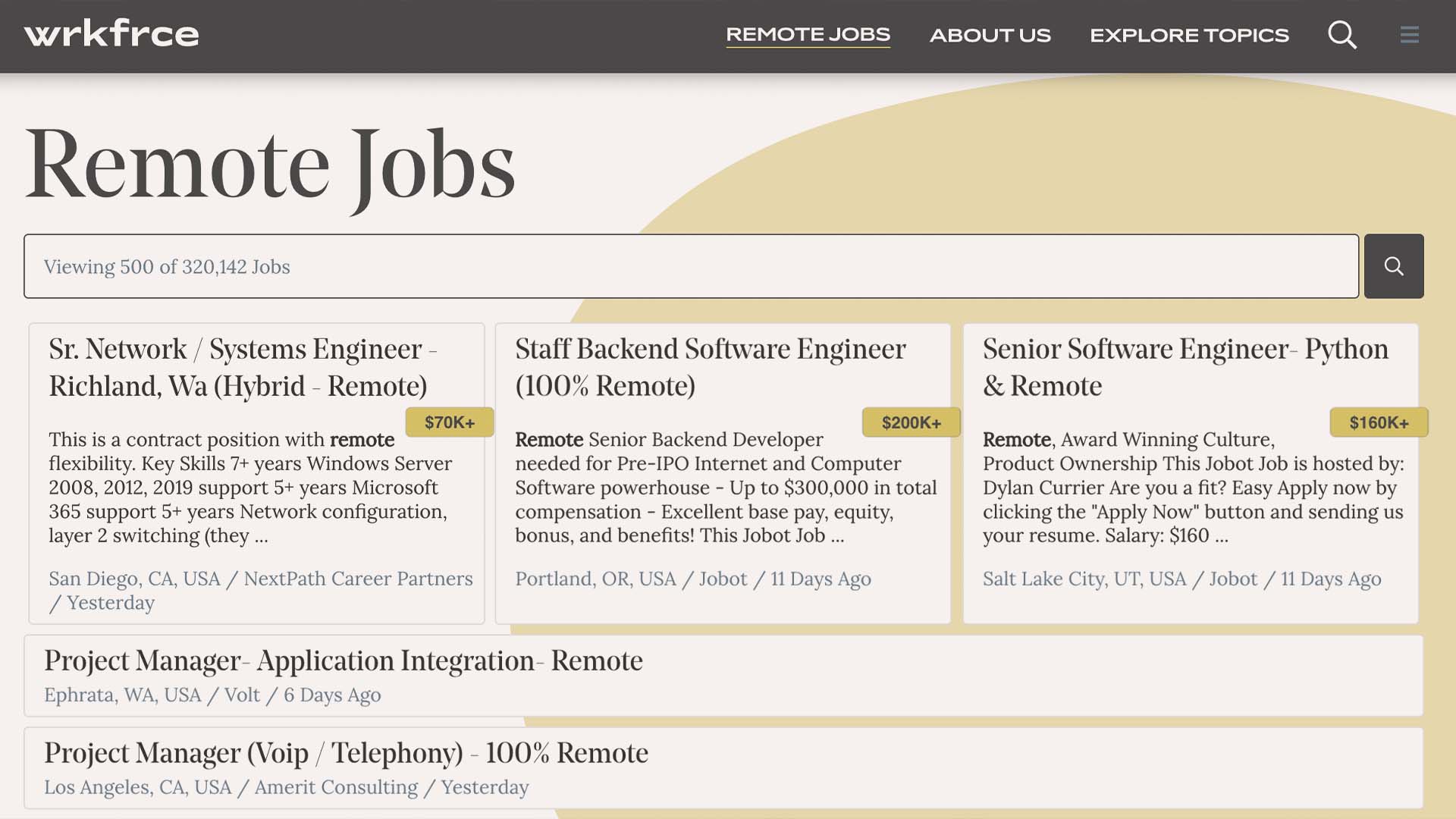 Also try searching for "remote-first companies" or "remote-friendly companies" in your industry to find relevant information. When you find a company that might be interested in your skills, check out their website's careers page. And don't think you have to apply for every position you find. Be selective and strategic.
If you are seeking freelance or fractional work try using platforms that cater to that audience.
It's not all about tech…
In-demand hybrid jobs are often tech-centric—but don't give up on remote or hybrid work if you're not a techie. There's huge demand for recruiters, staff accountants, human resource generalists, account executives, business analysts, and project managers.
Step 3: Get Ready for a Remote Interview
If you're applying for a remote job, you'll likely interview remotely. Recruiters for hybrid and even onsite jobs also have figured out the time and cost savings of virtual video interviews.
Follow these steps to prepare for behavioral job interview questions.
Rehearse potential answers:
A few days before your interview, sharpen your competitive edge by preparing answers to potential questions the interviewer might ask.

Research some questions to ask:
During an interview, you will be able to ask the interviewer about the company and job requirements. Don't wing it. Check out this list of 13 questions that you can ask. Choose a couple to learn more about the company and make yourself look pretty savvy in the process.

Get ready for curve balls:
The interviewer may throw you a series of behavior-based questions. The questions might be more functional (What experience do you have working with distributed teams in different time zones?), or they may be a little more off-the-wall (What would be the title of your autobiography?). The answers are important—but more important is how you respond. Interviewers are assessing how you think on your feet and how you react under pressure.

Prepare your space and yourself:
Clean up your background, optimize your devices, and practice using the interview platform. Put on a professional outfit and check your face, teeth (spinach for lunch?) and hair. The first 27 seconds of an interview are vital.

Flaunt it…a little:
Be energetic and charismatic during the interview. Let the interviewer get to know you and your talents. Show self-confidence, without arrogance, about your accomplishments and experience.
PRO Tip:
Fifty-eight percent of recruiters use LinkedIn and other social media platforms to hire potential candidates. Initiate conversations on LinkedIn, Facebook and Twitter so when remote managers come across your resume, your name is familiar.
Step 4: Follow Up
Within a day of the interview, send a short thank you email and connect with interviewers via LinkedIn so you can build a long-term relationship even if you aren't hired.
Tips for Your Second Interview
Congratulations! You've been called back for a second interview. What's next?
In the second interview, you will likely be asked to speak more in-depth about your skills and with more team members than in the first interview.
Stand out among the other finalists
Ace the interview by doing research to learn more about the company and even your potential interviewer. Use this information to create key conversation points.
Prepare questions that will help you (and the interviewer) decide if this is a good match.
Give clear, concise answers (check out these tips for speaking effectively off the cuff).
Use your body language (positive, open) to create a positive impression; minimize distracting gestures and mannerisms.
Negotiate a salary
Equip yourself with market research about the average compensation for your position.
Ask for what your skills and experience are worth. Don't be shy. You may not get a "yes"—but if you never ask, you are already defeated.
Consider alternative benefits like paid child care or education and extra vacation days.
You deserve a job that meets your expectations and matches your skills and experience, and the new remote/hybrid landscape opens amazing opportunities every day, no matter where you live.