Virtual internships are back. We've got tips to snag a great one for yourself.
Undoubtedly, an internship is a priceless experience for a college student. They have the opportunity to not only build their résumé but also build links to future employment.
In 2020, Nearly 75 percent of college students had their summer internships canceled, delayed, or made remote. While there were skeptics of how useful and relevant the experience was for students, people like Matteo Bernabo found ways to adapt and get the most from their virtual opportunities.
The 2020 virtual internship experience seems to have fueled a deeper interest among students and companies alike, figures reported by the University of Virginia Internship Placement Program would suggest. The program had 60 remote interns in the summer of 2020, 83 by fall, and in the spring, that number had jumped to 148.
Nevertheless, major corporations are struggling to decide whether internships will be in-person or remote in 2021. Some organizations like Goldman Sacs has said its interns will work from the office, while others like the City of Atlanta will offer both virtual and on-site internships.
As students begin their search for a summer internship, we put together a few tips for finding the ideal remote internship, as well as insights on how to learn new skills and ways to connect with coworkers without a physical office.
Finding the Right Virtual Internship for You
Christine Cruzvergara, vice president of higher education and student success at Handshake, a Bay Area–based startup focused on college recruiting, says a virtual internship search should have four components.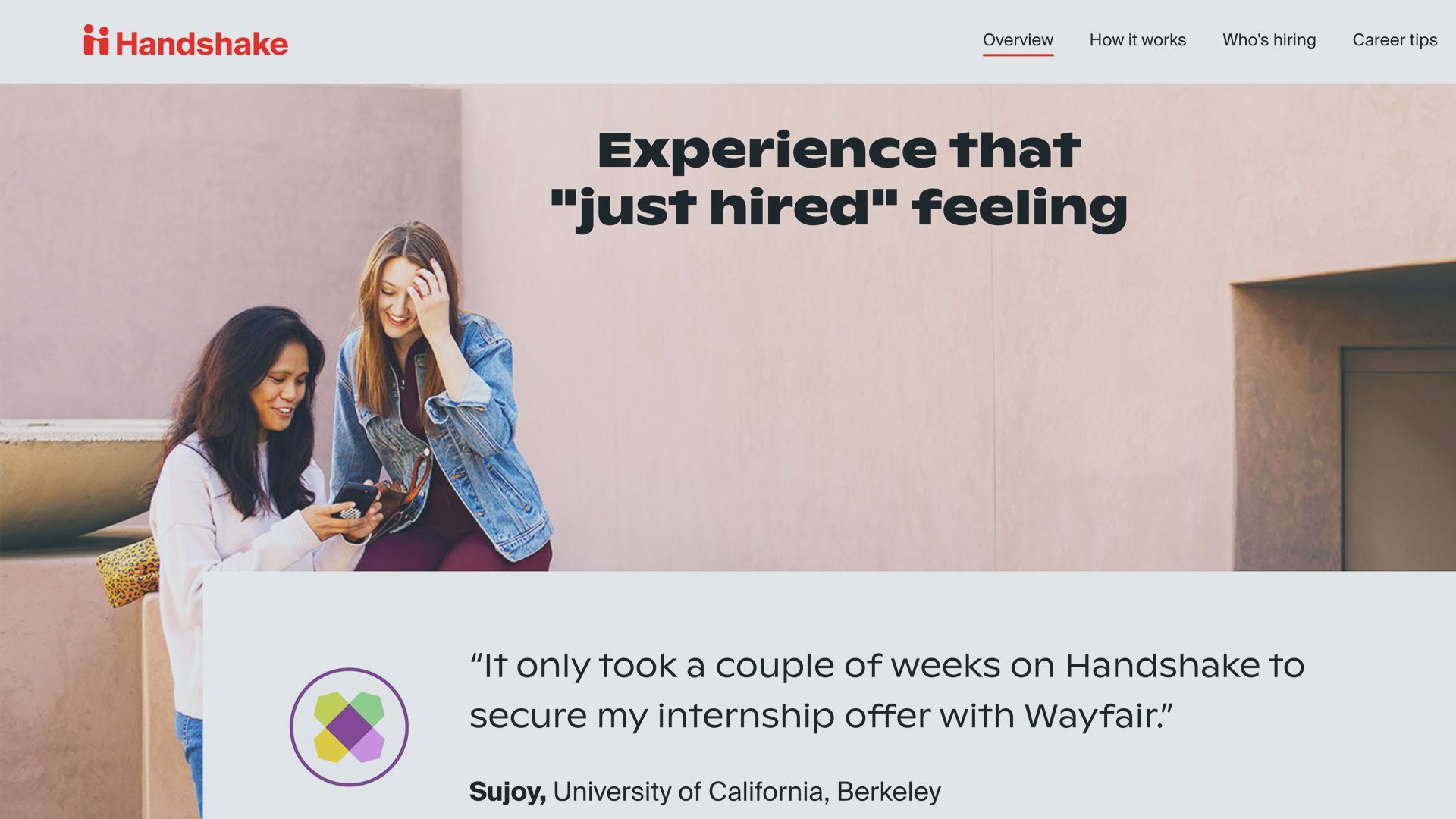 First, Cruzvergara writes in an email, students should "create and refine" their résumé, cover letter, and profile on LinkedIn and other social media accounts. "This is your opportunity to shape the narrative around who you are and what you bring to a team," Cruzvergara says.
Second, do your research to ensure the internship you're targeting is in the industry you want to enter, with a company you find interesting. "You should be able to talk comfortably about the emerging trends or pressing issues facing that industry and ask thoughtful questions about how the company or role will contribute to that conversation," Cruzvergara points out.
Third, you need to network. The pandemic has created obvious challenges for in-person experiences; however, making connections with those in far-flung locations is no longer a limitation thanks to Zoom and other platforms. You can have "coffee chats" with anyone living in nearly any country. "This is about building relationships and taking a genuine interest in someone else," says Cruzvergara. "Ask about their career path, what they've learned, their advice for you, and what trends they're experiencing."
Fourth is the actual search and application process. Use sites like Virtual Internships, WayUp, or LinkedIn's virtual internships page to find available internships—and don't be shy about asking friends, family, or professors if they know of opportunities. Cruzvergara notes that college career centers should be equipped to help with each step of the process.
Prepping for the Virtual Internship Interview
Before an interview, be sure to test your technology to avoid any glitches or interruptions.
While you're interviewing, Cruzvergara advises that you not only dress the part for the position, but that you also bring the same energy and enthusiasm in the virtual interview as you would for an in-person interview. "And, as always, students should come prepared with thoughtful questions and demonstrate that they have done their research on the industry, company, as well as the particular position they are applying for," Cruzvergara says.
Maximizing the Virtual Internship Experience
Virtual interns will need to be proactive in order to maximize the experience. "Because there is that lack of face to face human interaction," says Victoria Luong, associate director of strategy at InterTrend Communications, which offers virtual internships, "taking the initiative to communicate, ask questions, and express ideas in a virtual setting is going to be extremely important if they want to stand out."
"Students will want to be even more explicit with their supervisor or team around communication patterns, group dynamics, and project plans," suggests Cruzvergara. "If these details aren't laid out by the employer at the onset of the internship, students can take the initiative and ask."
In addition to the broader questions about expectations on projects or ongoing work flow, you should ask your supervisor about specifics like typical email response times or Slack versus email etiquette.
Rod Adams, head of talent acquisition in the United States and Mexico for PwC, suggests new virtual hires should show coworkers that they're self-motivated and independent. In an HR Executive blog post, Adams advises, "As soon as you begin, find out how your team members like to communicate—different people have different communication styles, and when working remotely, it's important to err on the side of overcommunication as you get up to speed."
InterTrend's Luong points out that students' initial passion and energy might start to wane as they work from their living rooms and dining room tables instead of an office buzzing with colleagues. "Therefore, putting a strong emphasis on non-work-related virtual interactions and self-care is something that we're actively championing," says Luong.
The Résumé's New Essential Line
While it's easy to bemoan missing out on the traditional office internship, there is a silver lining to the remote experience. Both Cruzvergara and Luong believe skills learned through virtual internships, such as ease with video conferencing, will be an asset for future job searches. "We foresee remote work becoming a necessary experience for interns to have on their résumé," Luong asserts, "as they venture into the real world."
So, as you look toward the employment future you may find that a virtual internship might be just the experience you need to drive your success.