The trend toward remote work started much earlier than you might think.
Some trace the beginnings of working from home to our earliest ancestors in eastern and southern Africa, a cool 1.4 million years ago. Fast-forward to medieval Europe to find more examples: Blacksmiths, watchmakers, and fine-clothing manufacturers all practiced their crafts and sold products from the comfort of their homes.
Researchers Coin New Terms for Ditching the Commute
The rise of what we think of as remote work began much later. Some key innovations had to pave the way. First came the modern computer in the '60s. In 1969, Allan Kiron—a Polish-born staff scientist at the U.S. Patent Office—coined the term "dominetics" for the link between domicile, connections, and electronics. He wrote in the Washington Post that the combination of computers and communication tools could forever change the way we work and live.
Kiron's term didn't last, but the idea behind it did. Enter Jack Nilles, widely known as the father of remote work. Nilles is credited with creating the terms "telecommuting" and "teleworking" in 1973 as the director of interdisciplinary research at the University of Southern California. In the wake of the OPEC oil crisis, he offered telecommuting as a way around normal commuting amid soaring oil prices.
A couple of years later, the first personal computers became available. And toward the end of the '70s, as the oil embargo continued, the work-from-home movement became increasingly mainstream.
"If 10 percent of those who commute to work each weekday were to start working at home two days each week, this would reduce the volume of such travel by 4 percent," wrote Frank Schiff, vice president and chief economist of the Committee for Economic Development, in the Washington Post in 1979.
IBM Makes an Early Move—and We Say Hello to the Internet
Then, in 1983, IBM made a small shift that would lead to a sea change. The multinational technology company launched an experiment: allowing five employees to work from home. Four years later, about 2,000 of its employees were telecommuting, making IBM one of the first major corporations to embrace the practice of remote work. The company eventually grew its remote workforce to 40 percent of its 386,000 employees in 2009, though many were called back to the office in 2017 in an effort to boost collaboration.
In the same year that IBM moved thousands of employees online, the seeds of what we now call the internet were planted. By 1987, about 1.5 million Americans were working remotely—and 1991 saw the invention of the technology that led to Wi-Fi.
These advancements inspired modern-day management overlord Peter Drucker to call working from the office obsolete. "It is now infinitely easier, cheaper, and faster to do what the 19th century could not do: Move information, and with it office work, to where the people are," Drucker wrote in 1993. "The tools to do so are already here."
The Gospel of WFH Goes Global
Nowadays, entire companies are launching as fully remote. GitLab, a web-based software and IT operations tool developer with almost 1,300 remote workers spanning 68 countries at time of publication, is the self-proclaimed "largest all-remote company in the world." Started in 2011 by Sid Sijbrandij and Dmitriy Zaporozhets, GitLab had just nine full-time employees when it graduated from startup incubator Y Combinator in 2015.
"I believe we're nearing a sea change in how we work," wrote Darren Murph, (pictured here with his son in his home office) the head of remote at GitLab, in a blog post in August 2019. "It's easy to point to stratospheric rent prices in major urban centers, soul-crushing gridlock, and shifting mindsets in what society values in a career as reasons for turning to remote work."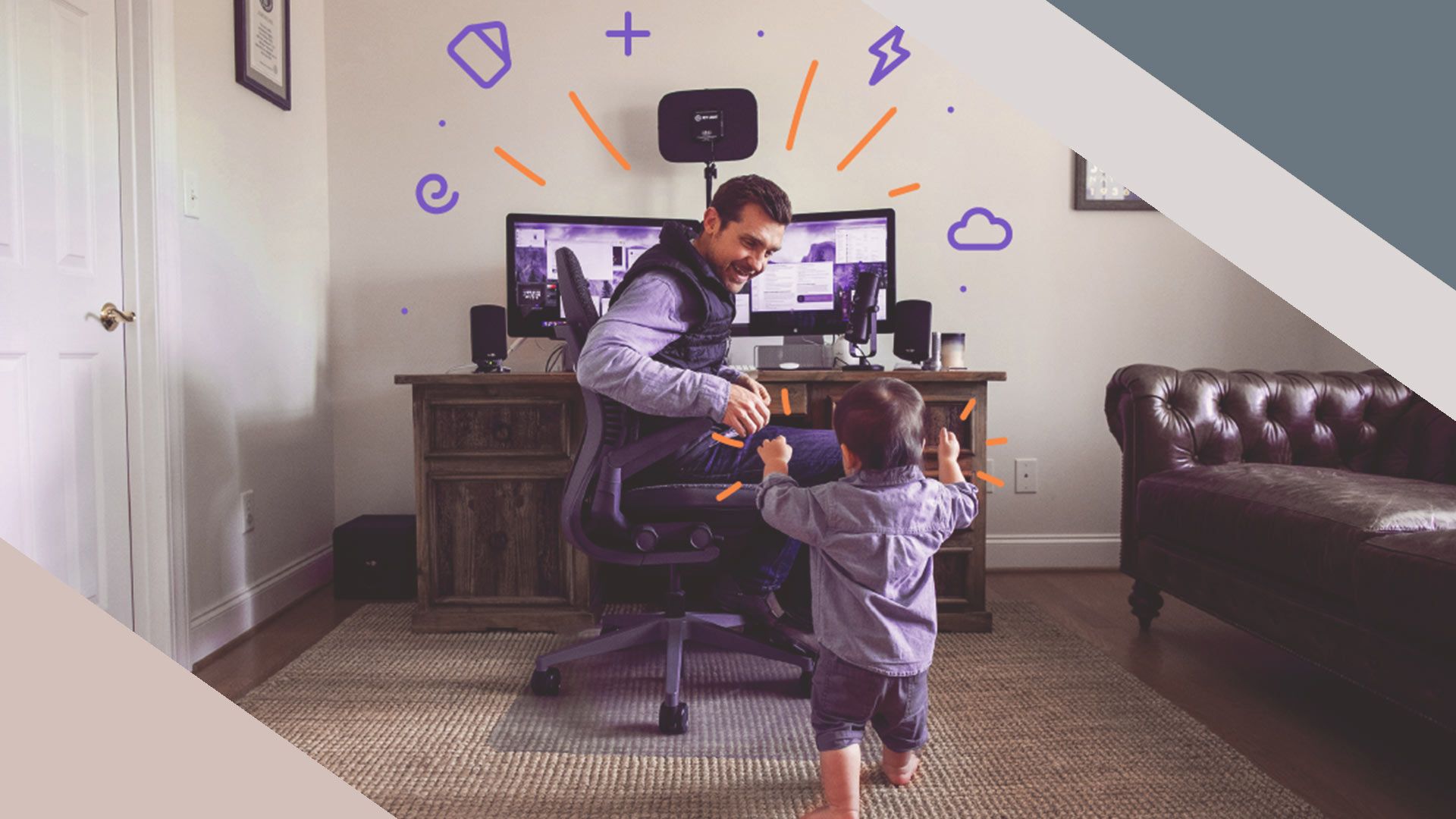 While Sijbrandij and Zaporozhets have proven the validity of building and scaling an all-remote company, Matt Mullenweg has taken the idea of remote work to the next level. Mullenweg, who earned his industry chops by developing WordPress, has since taken over as CEO of Automattic, a web development company with just under 1,200 employees.
The company ditched its 15,000-square-foot headquarters in pricey San Francisco because it had "only five people coming into it," Mullenweg told The Information earlier this year. Now Automattic maintains just one small workspace in San Francisco for board meetings and a spot in a WeWork in New York City.
"I'm happy to spread the gospel wherever possible for distributed work," Mullenweg added. "I think it's better for companies, employees, the environment, and the world. There are very few downsides."
A company that punches above its weight with a smaller fully distributed team is Zapier, which makes an app integration tool and has 250 employees located in nearly 25 countries. Also a graduate of Y Combinator, Zapier launched in a work-from-anywhere format as its three cofounders juggled graduate school and other jobs.
"We got a lot of odd looks and curious questions when we decided to be all-remote, but COVID-19 has demonstrated how resilient the model is," says Wade Foster, Zapier cofounder and CEO. "Many companies are struggling to build these habits, and while we aren't immune to COVID-19's impact, we haven't had to change our work routines all that much."
But it's not just upstart tech founders who are questioning the need for a traditional office. Even investment sage Warren Buffett has gotten on board.
"The supply and demand for office space may change significantly," Buffett told the Wall Street Journal in May 2020. "A lot of people have learned that they can work at home, or that there's other methods of conducting their business than they might have thought from what they were doing a couple of years ago. When change happens in the world, you adjust to it."