Kenneth Hellem is an experienced remote work expert and Head of Hybrid at Beleco, a Swedish startup, helping companies transform from in-office to hybrid and remote. He is a former management consultant with more than 5 years of experience leading distributed teams at Google, Oracle and Beleco.
---
The advantages of remote work are becoming increasingly clear. According to a 2020 study by Boston Consulting Group, 75% of employees maintained or improved their perceived productivity on individual tasks during the pandemic, and over half maintained or improved productivity on collaborative tasks. The transition to remote work leads to improved performance metrics, reduced costs, and a more satisfying work experience. In other words, when people are happy, they tend to produce better work and stay with the company longer. It's a win-win situation.
However, despite the desire of individuals and companies to embrace remote work, implementation can be challenging. Many companies struggle to realize the benefits and often revert to old habits when faced with difficulties.
The reason behind this difficulty is that most of us are not naturally adept at remote work. Like any skill, remote work requires learning, practice, and continuous improvement. On an organizational level, this type of learning can be particularly challenging.
In the remote work world, intentionality is a frequently discussed concept. But what does it mean to be intentional? We are navigating uncharted territory and need guidance—a map, so to speak.
The good news is that maps already exist for other domains. There are time-tested IT Maturity Models, Process Maturity Models, and Capability Maturity Models that we can draw inspiration from.
It's time we had our own Maturity Model for hybrid and remote work.
What is the Hybrid/Remote Maturity Model?
The Hybrid/Remote Maturity Model is a framework that allows you to assess your company's maturity across six key areas, specifically relevant to remote organizations:
Culture
Strategy
Organization
Processes
Physical Workplace
Digital Workplace
Within each area, there are five maturity stages: Ad-Hoc, Developing, Defined, Managed, and Adaptive. These stages help organizations evaluate their current state, set target states, and develop strategies to reach those targets.
Here is an overview of the maturity stages in each area: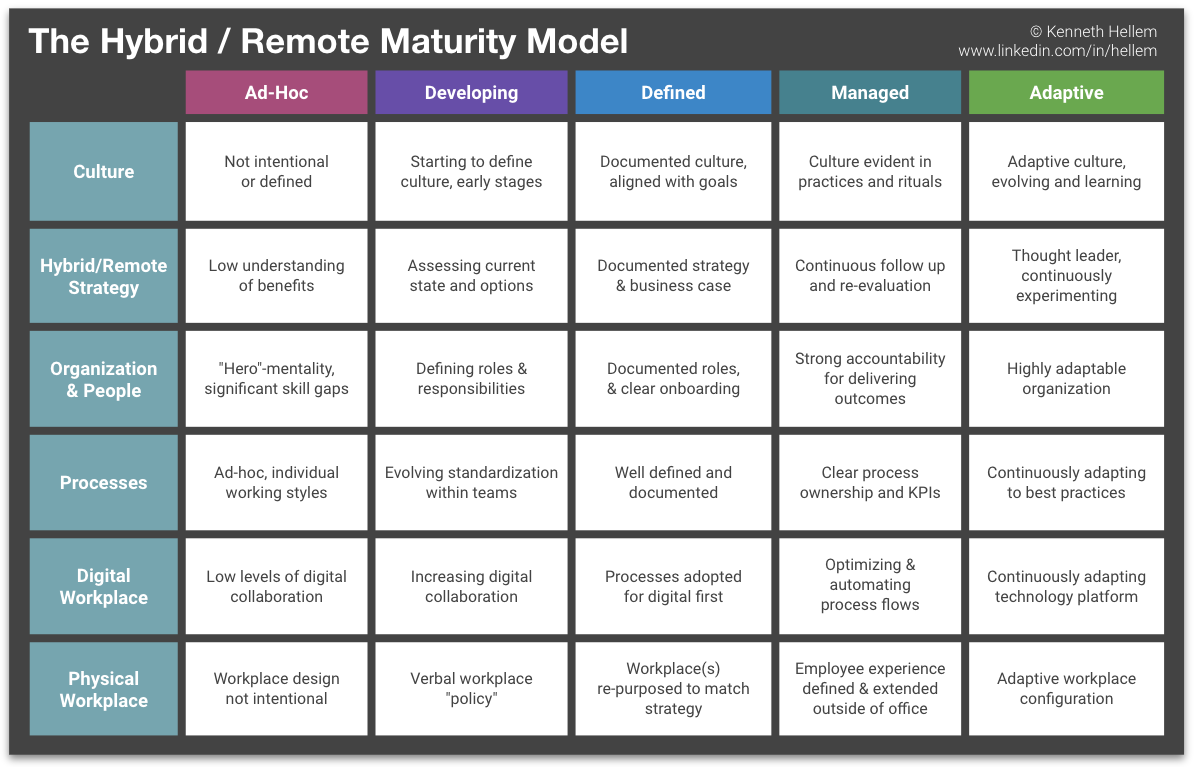 The Hybrid/Remote Maturity Model provides a roadmap for companies to evaluate their current state and set targets for improvement. It allows organizations to focus on areas where they need to enhance their maturity level and provides a clear vision of what excellence looks like in each area.
Why do we need a Hybrid/Remote Maturity Model?
When companies embark on their remote journey, the most common question is, "What should we focus on first?" While a one-size-fits-all playbook would be ideal, the answer depends on each organization's unique circumstances.
When I joined Beleco, I recognized untapped potential. We lacked a shared vision, defined processes, and people were overwhelmed and unproductive. My hypothesis was that we could double our productivity by adopting a hybrid model. However, with so many areas needing improvement, I didn't know where to start.
Many companies want to make rapid progress, but it's crucial to assess your organization's maturity level first. At Beleco, we realized that before delving into advanced concepts, we needed to address foundational aspects such as documenting our vision and values.
On the other hand, if your organization already has a solid foundation, your roadmap will differ. You might want to focus on specific areas that require attention or leveraging your strengths to become a leader in certain aspects.
The Model in Action
While initially developed for internal use at Beleco, it became evident that other teams were interested in the Hybrid/Remote Maturity Model. Company leaders appreciate having a structured approach to assess their maturity level on a linear scale and gain a clear understanding of what excellence entails. Some organizations realized that despite excelling in one area, they had overlooked other dimensions.
The model has gone through several iterations and was recently used in a workshop with hybrid/remote leadership from six leading Swedish tech companies, manufacturers, and banks. The aim was to assess and enhance their hybrid and remote work capabilities.
To start using the Hybrid Work Maturity Model, follow these steps:
Schedule a dedicated session with key stakeholders in your organization, such as the CEO, Head of Operations, and Head of People. Their involvement is crucial for gaining a comprehensive understanding of your organization's current state and setting realistic targets.
Utilize a digital whiteboard app (e.g., Miro) or project the Hybrid/Remote Maturity Model on a wall during the session. This allows participants to actively engage in discussions and visualize progress.
Ask each participant to rate your organization's current maturity level for each of the six key areas in the model. Encourage open discussions and be prepared for differing opinions. Facilitate a constructive conversation that leads to a consensus on an average baseline for each area.
Once the current state is established, collaboratively determine the target state for each area. Encourage participants to consider the time and resources required to reach these goals, as well as potential challenges.
With the agreed target states, work together to develop a plan that outlines specific activities, timelines, and ownership for each area. This plan will serve as a roadmap for your organization's journey towards greater maturity. At Beleco, for example, we set a company-wide objective to increase our average maturity from 1.8 to 3 by the end of the year. This clear objective helps us focus our efforts and remain accountable to our goals as we continue to evolve our hybrid work model.