Working remotely while traveling the world sounds like a dream. Your newsfeed likely has painted the picture for you: a digital nomad sitting cross-legged on a poolside bean bag chair staring earnestly at their laptop screen.
As someone who's traveled the world while working remotely for the past two years, I've been there. All I needed was my laptop and a strong espresso—or so I thought.
From balancing on an unstable cafe stool at the southernmost tip of Patagonia, to typing away while sitting on an airport floor in Marrakesh, it didn't take long for my neck to spasm, my shoulders to tighten, and my wrists to crack every time I touched the keyboard. So after much trial and error, I've come up with an ergonomic and portable remote work setup that combats any discomfort.
What Is an Ergonomic Workspace?
Working from your bed or couch might sound like you've made it, but it can take a toll on your body.
That's where ergonomics—workspace design that facilitates a comfortable work environment—comes in. Working remotely isn't an excuse to throw home office ergonomics out the window, but rather to adapt the concepts to your lifestyle and your body.
When developing your ergonomic workspace setup, consider these four tips:
Align the top of your screen at eye level.
Keep your wrists and hands straight while typing.
Adjust your chair so your knees are at hip level.
Support your back so it's relaxed.
With these tips in mind, you can personalize your workstation with gear that keeps you comfortable and supported.
How to Create the Optimal Digital Nomad Workstation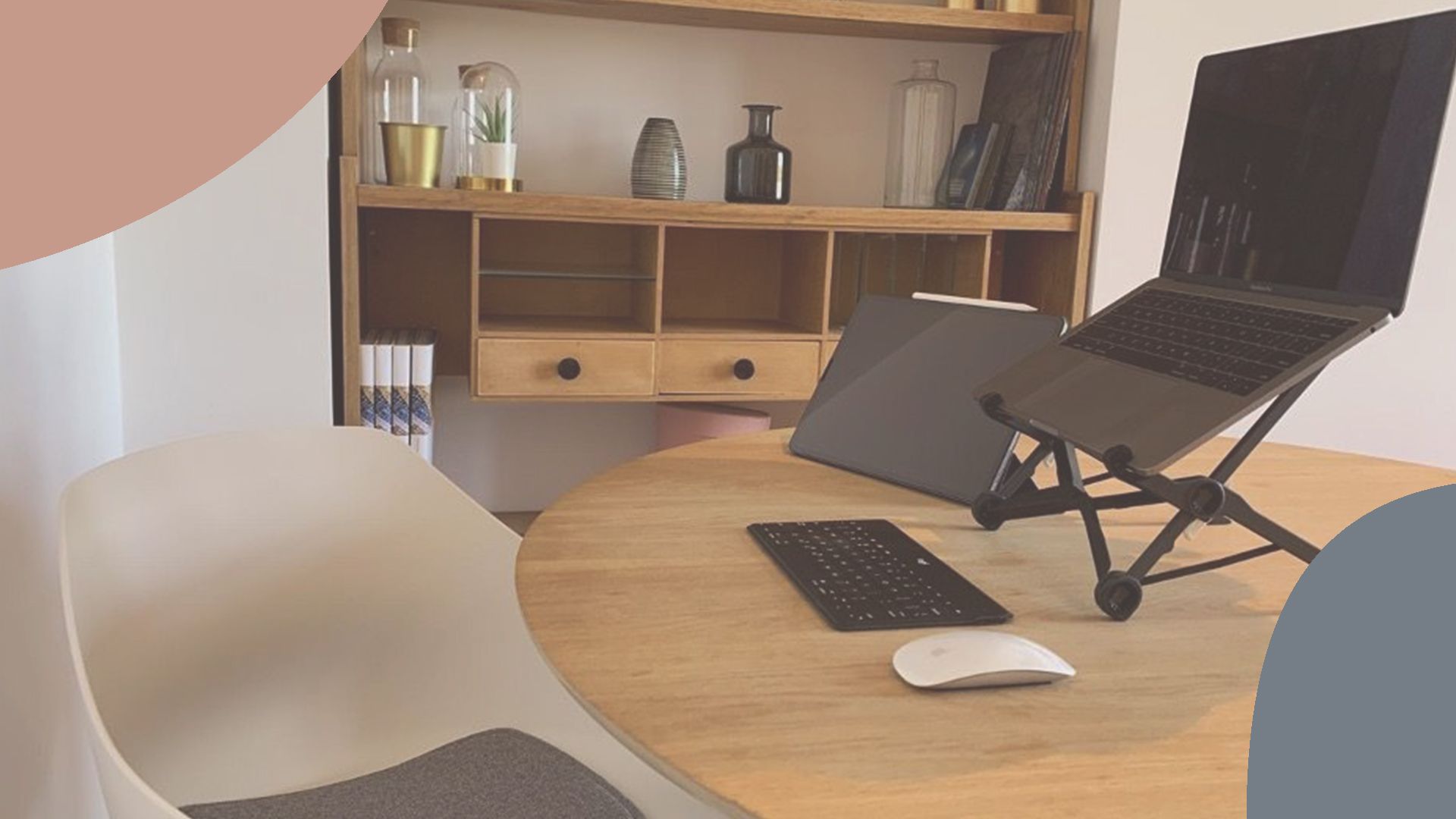 "If you're traveling outside the United States, a reliable power adapter is a must."
After researching hundreds of reviews, trying a number of products that I later returned, and frequently upgrading my workspace, this is the gear I swear by.
Laptop Stand
Looking down at your computer can impact your posture, introducing unwanted neck and back pain. Out of the hundreds of laptop stands on the market, there's a reason why the Roost Laptop Stand is a top choice among digital nomads.
When packing for a life on the go, every item must serve a purpose while also saving space. A clunky laptop stand won't cut it.
The Roost Laptop Stand is strong enough to hold a 15-inch laptop, is lightweight and fully collapsible, and can be adjusted to your eye level. I can't count how many times people have approached me while I'm using it to ask where they can purchase one.
Bluetooth Keyboard and Mouse
A Bluetooth keyboard and mouse allow you to adjust the distance between you and your screen; they also keep your arms and hands level. Look for four main features when selecting a keyboard and mouse that work for a digital nomad: Bluetooth capability, rechargeability, size, and weight.
After some experimenting, I opted for the Logitech Keys-to-Go Portable, Stand-Alone Keyboard, which at ¼ inch is slim enough to pack in a laptop case. The power button is a switch, so it never accidentally turns on. And its sleek profile protects it from spills or crumbs, perfect for combating my midday blueberry muffin weakness.
For your mouse, rechargeability is key. While you have many mouse shapes and sizes to choose from, nothing is worse than searching for batteries when your mouse unexpectedly dies. The Apple Magic Mouse 2 is my go-to for its instant connection, multi-touch surface, and long charge. If you need a more budget-friendly option, a number of models are available from $12 to $30. One colleague has been using a $14 rechargeable Bluetooth mouse for over a year and loves it.
External Monitor
When I left my office, I also left my large, dual-screen monitors. I've missed them perhaps only a bit more than the award-winning Donut Bar across the street that got a little too much of my business.
Although I adjusted to working on my 13-inch MacBook Pro, I really needed a second screen. So last year I invested in a 12.9-inch Apple iPad Pro, which wirelessly connects to my MacBook Pro as a second monitor. When I'm deep into writing mode, I connect my wireless keyboard to the iPad instead of using the laptop.
If you're not looking to invest in an iPad, there are cheaper options that my peers swear by, like the NexiGo Premium Portable Monitor or the AOC Portable Monitor.
External Battery
After countless days of parking myself near an café outlet or maneuvering my chair to prop my heavy power cord and adapter combo, I invested in an external battery pack that charges multiple devices at one time.
The most important features to look for are charging port types, battery life, and size. Although on the heavier side at 1.67 pounds, the Mophie Universal Powerstation AC 22,000mAh has powered my MacBook Pro, iPhone, Sony headphones, and iPad Pro for at least two days on a single charge. The USB-C, USB-A, and wall charging port make it easy to charge all of my devices, regardless of their cords.
But a word to the wise: If you're flying internationally, check your destination's security regulations about carrying an external battery—mine was confiscated from my carry-on backpack at Guangzhou Baiyun International Airport. When in doubt, pack it in your checked bag.
Mousepad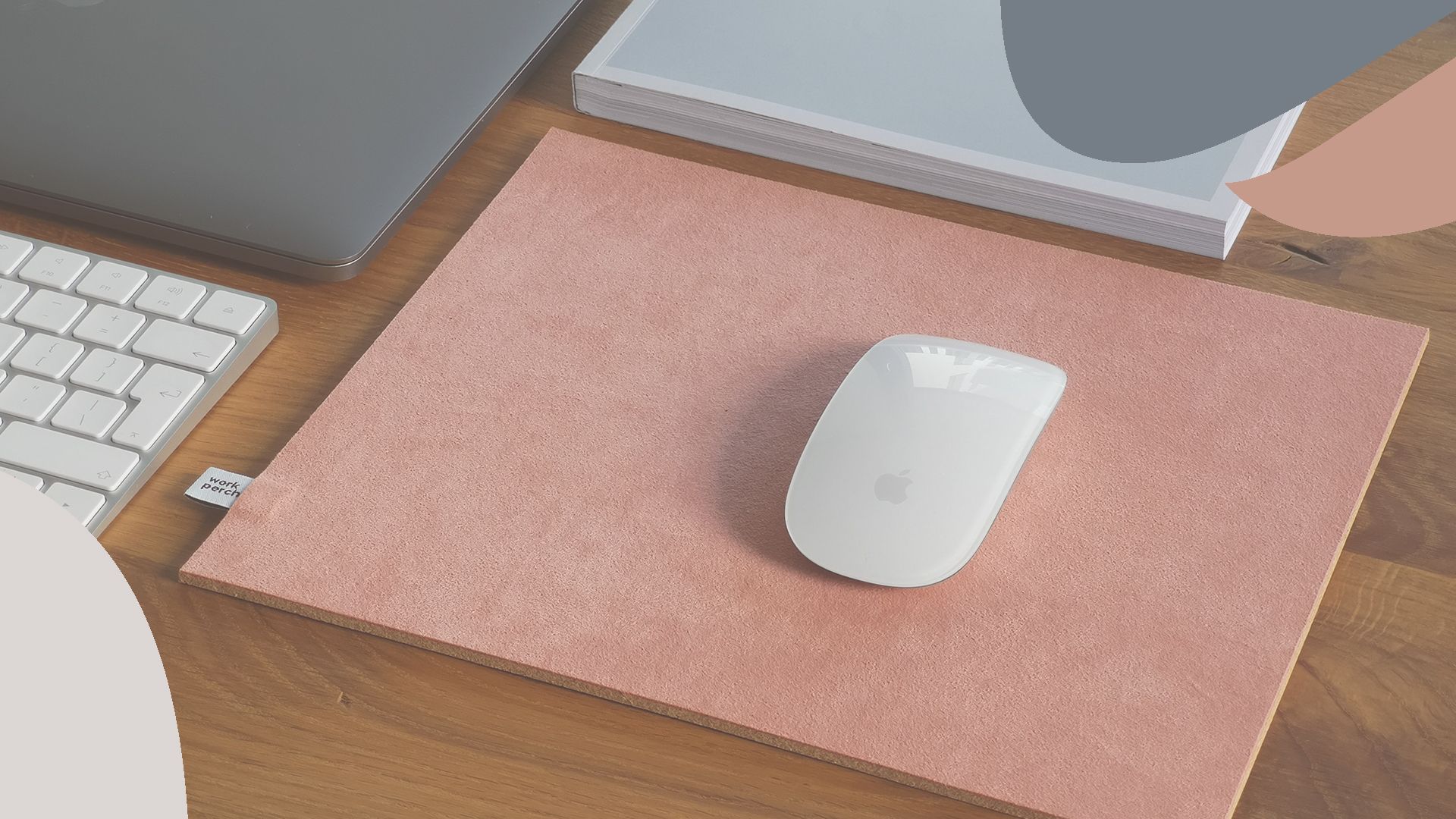 "When packing for a life on the go, every item must serve a purpose while also saving space."
Never underestimate the practicality of a good mouse pad. There's nothing worse than trying to get your Bluetooth mouse to work properly on a glass table, or a chair arm, or your leg.
Plus, the gel support of some mousepads can significantly reduce wrist pain. I keep my Belkin WaveRest Gel Mouse Pad handy for its comfort, durable surface, and lightweight design.
Power Adapter
If you're traveling outside the United States, a reliable power adapter is a must.
Learn from my mistake—I used an inexpensive (and unresearched) adapter to power my MacBook Pro, and the electrical incompatibility killed the light in my display. Thanks to AppleCare, I replaced my screen for free in Malta, but this story could have had a much more expensive ending.
To avoid a bad voltage match use a power adapter that prevents overcharging or over-current problems. Since replacing my laptop screen, I've used the Universal Plug Adapter; it features different charging ports, covers charging ports in 150 countries, and defends against overcharging.
Travel Backpack and Carrying Cases
Replacing your gear while you're in an unfamiliar place is never fun, so protecting it is crucial. When selecting a travel backpack, consider these features:
Durability:
Let's face it, your travel backpack gets kicked around. You need it to hold up even when squeezed into overhead compartments or accidentally dropped. Also make sure that the material is rip-resistant and washable. If it has a warranty, even better.
Multiple compartments:
Separating your gear in smaller compartments makes it easier to find. Try to find a backpack with a separate iPad and laptop section to keep them snug.
Zipper design:
Since your backpack likely holds your most expensive equipment, it should have two zippers on each compartment so each can be locked. I use travel luggage locks to secure each section when I'm placing it in a baggage hold.
Water-resistant material:
Regularly occurring rainstorms are the norm in many destinations, so be sure your pack's material can repel water to protect your equipment from water damage.
Comfort:
Padded straps and back make a big difference when you're carrying your backpack for a long time.
The Patagonia Paxat Backpack 32L hits the mark for me, proving to be a strong and durable backpack for the past two years. I'm also a big fan of the Patagonia brand for their worn wear program, which allows you to trade in used items, shop used, or repair your current gear.
Inside my backpack, I use carrying cases to further protect my most important gear. I use the AmazonBasics Laptop Sleeve for my MacBook Pro and the JETech Case for Apple iPad Pro and CAISON Laptop Case Sleeve for my iPad Pro.
Other Items for Digital Nomads to Consider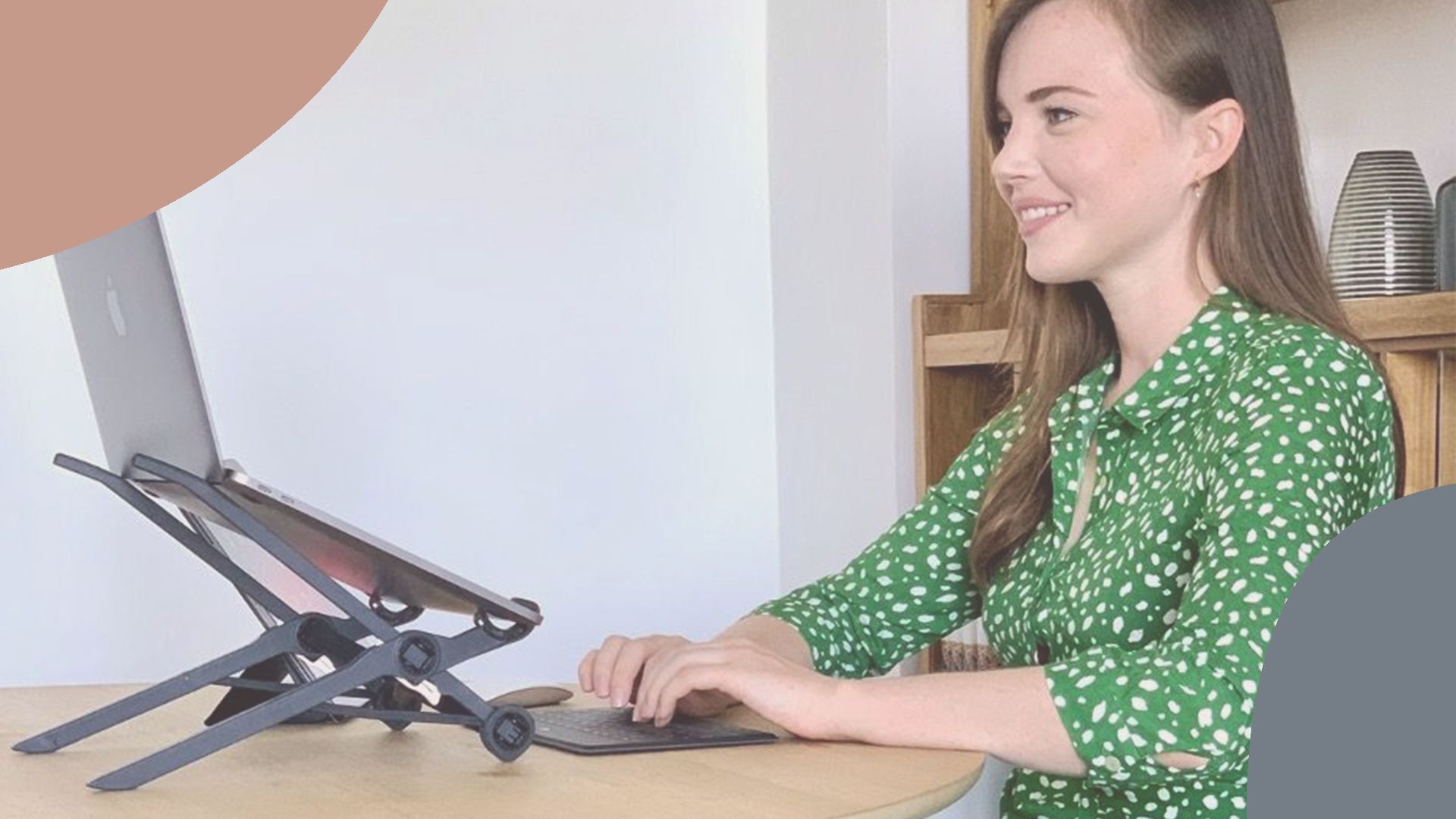 In addition to the above digital nomad equipment, here are some items I always keep in my backpack.
Noise-canceling headphones:
As someone who never wore noise-canceling headphones in the office, I didn't expect that they'd become a staple, but they're now one of the most important components of my remote work setup. After reading reviews and testing multiple options at my local consumer electronics store, I chose the Sony Noise Canceling Headphones for their 30-hour charge, audio quality, and comfort. Not only do they allow me to focus while in a noisy coffee shop or airport, but the built-in microphone makes video calls audible for both parties. Plus, I've never had issues automatically connecting them to my laptop as I've experienced with other Bluetooth headphones.
Cords:
Keep all of your cords with you so you can charge your equipment at any time.
Screen cleaner:
Screen cleaner can save you when glare picks up the dust, dirt, and oil on your screen.
Backup internet:
WiFi can go out at inopportune times. I use Google Fi on my iPhone as a hotspot in the event of an internet shortage or outage. I've tried different plans, and this one provides the most inexpensive international call, text, and data plan for digital nomads (you can get $20 off your first bill with this referral code).
Security:
Use a VPN such as HotSpot Shield to confirm that your confidential materials are secure when you're connected to unfamiliar WiFi networks.
Sweater:
Even on hot days, air conditioning in airports and coworking spaces is often strong, so I always keep a sweater handy. Plus, sometimes the seats are uncomfortable (especially if I'm wearing shorts or a skirt), so I'll use the sweater as a seat cover.
Water bottle:
I don't go anywhere without my Hydro Flask Water Bottle to stay hydrated.
The most important part of creating a remote workstation is personalizing it to your comfort level and maximum productivity—choose products that fit your remote lifestyle. For some fellow nomads, that means investing in a full-size second monitor every time they relocate. For others, it's paying for a coworking space that offers ergonomic chairs.
Just remember: Always consider the weight of everything you carry and the ergonomics of your setup—and try not to get distracted by your beach view.
As an Amazon Associate wrkfrce earns from qualifying purchases.