As remote work continues to demonstrably boost productivity and bolster bottom lines, companies have more opportunities than ever to grant their staff the freedom to be off-site. But to reap the benefits noted above, businesses also need to practice effective employee management and monitoring.
There's no shortage of companies providing services and solutions to companies investing in remote workforces. Some of the most popular providers, like Zoom, Slack, and Asana, offer targeted organization and communication solutions. However, remote work isn't just about project files and virtual staff meetings—organizations with remote workers need more.
Enter Hubstaff, business management software fundamentally designed for the remote workforce. Although it receives the most publicity for its employee-tracking tools, Hubstaff provides remote companies with a suite of services, not just collaboration/communication and project management but essential related tools like timesheet management and payroll integration.
According to Capterra, Hubstaff works with 34,000 remote and field service teams and includes established and start-up companies specializing in software, e-commerce, construction, and more. Among its clients are giants like Groupon, Ring, the Los Angeles Clippers, and Instacart. In 2019 alone, the company netted almost $6 million in revenue, and increased active customers to 10,534 (up from 8,932 the year before).
Hubstaff may have started the remote workforce management trend, but it is far from alone in the marketplace. Other companies are out there, some with lower price points, although most fail to offer the comprehensive tools available through Hubstaff's larger platform.
TSheets, for instance, allows companies to monitor employee time and get a sense of when they're working. And if companies really want to track employees as closely as Hubstaff's app allows, InterGuard can do it, too—and track them minute-by-minute. A slew of other services also operate in the remote-work market, like Time Doctor, which offers employee tracking and payroll integration. Toggl offers everything from employee tracking to project management. Workday's feature set, more robust than Hubstaff's, allows companies to manage everything from human resources to finance divisions.
That said, Hubstaff has established itself as a relevant and popular remote work management provider.
What Is Hubstaff?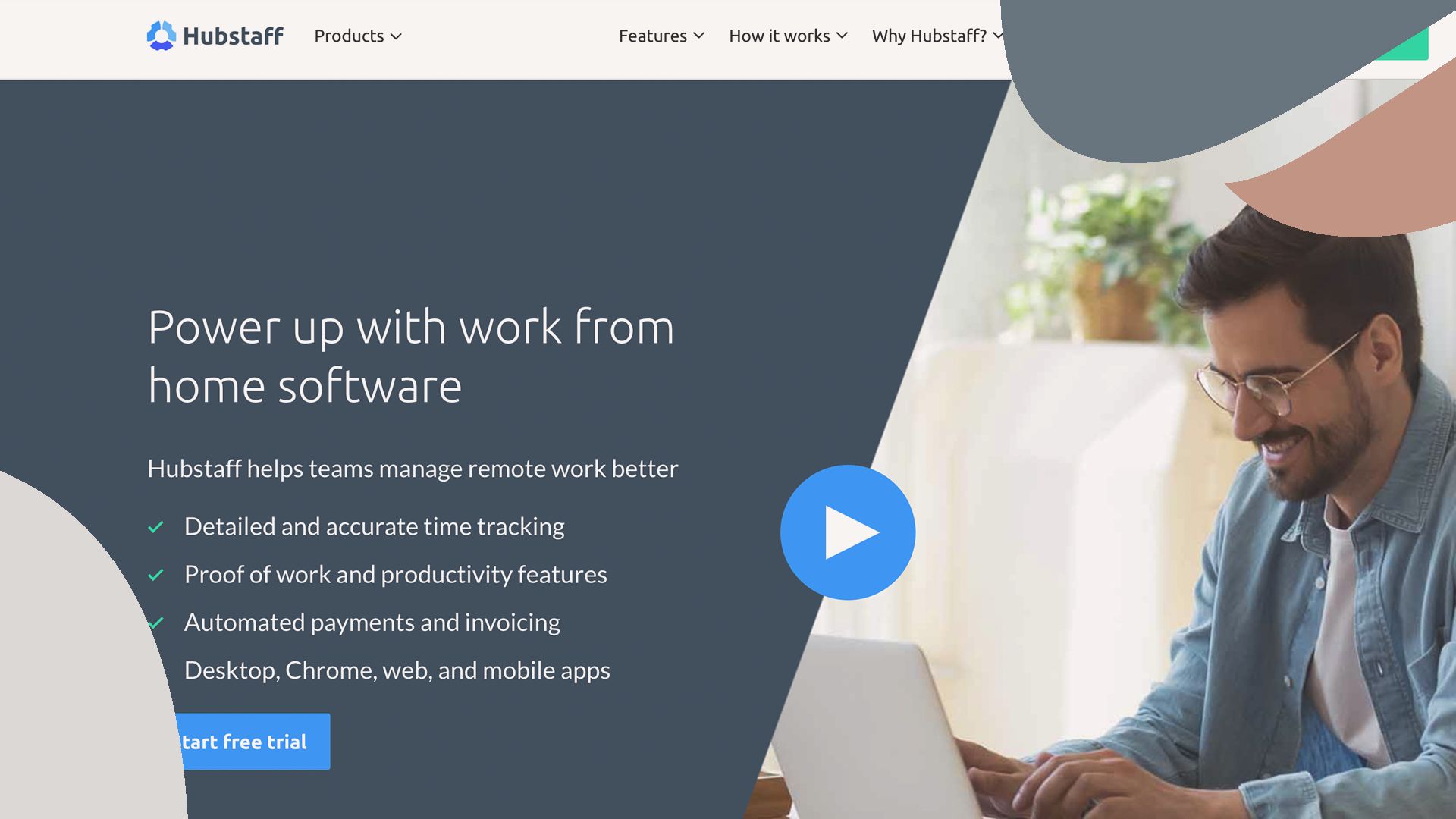 Hubstaff is a software as a service (SaaS) provider with three main divisions: Hubstaff, which provides invoicing, reporting, payments, and related services; Hubstaff Tasks, for project management; and Hubstaff Talent, to post jobs and remotely hire employees.
The main Hubstaff division provides employee monitoring with the ability to capture keystrokes and mouse clicks, as well as options to routinely snap screenshots of an employee's computer. It also fully integrates payroll with services like ADP and Gusto.
"Hubstaff has been committed since day one to building and supporting software tools that allow remote teams to operate efficiently by eliminating the need for constant check-ins and automating many recurring, time-draining admin tasks," Hubstaff marketing director Courtney Cavey said in an interview.
For Hubstaff to work, however, its service must be installed on employee computers and devices. If companies allow employees to use their own equipment, many of Hubstaff's employee-monitoring and time-tracking tools can't be used. Hubstaff works with iOS, Android, Windows, and Mac, which means it compatible with most devices employees use.
Which Industries Does Hubstaff Serve?
Hubstaff has designed its service to work across industries. In addition to large corporate customers, Hubstaff provides service to cleaning, landscaping, construction, healthcare, and legal businesses. Field services and not-for-profits are also target customers.
"The situations where this solution is most applicable are those where workers either operate from home or are mobile, such as sales reps and delivery workers," TechRadar said in its 3.5-star Hubstaff review last year. "It might also be suitable for home-based telesales and distributed projects that involve parceling work out to lots of contributors. Accountancy, software development, lead generation—these all would be suitable."
What Services Does Hubstaff Provide?
Here's a brief rundown of Hubstaff's core features. The company's subscriptions include all features, but companies can customize, choosing which to activate.
Time Tracking:
Tracks when employees are working (or not). Includes an automatic clock-in/clock-out feature tied to the employee's phone GPS.
Geofencing:
Allows employers to see employees' physical location.
Employee Monitoring:
Allows employers to track employee computer activity, take screenshots of employee monitor, and track mouse and keyboard use.
Project Budgeting:
Allows employers to set time and cost expectations for projects and alerts employers to overspending.
Online Timesheets:
Automatically integrates with payroll and accounting services like Intuit's QuickBooks to quickly pay employees for their time.
Online Invoicing:
Employees can directly send invoices via email and as HTML or PDF.
Employee Scheduling:
Allows employers to set work times, manage shifts, and accept time-off requests. The employee scheduling feature integrates a clock-in system.
In its review of Hubstaff, Software pundit, which awarded the app 4 out of 5 stars, liked Hubstaff's features breadth but cautioned that mobile versions had problems when multiple people tried to sync their time.
How Much Does Hubstaff Cost?
Hubstaff is available for free to single users, like freelancers. The plan includes time tracking, activity tracking, screenshot captures, and payment support.
Companies that bump their service to the $7 per user per month plan get all of the above features, along with 24-hour support and the ability to control user privileges. A premium package ($10 per user per month) includes all of the above features, tracking for URLs, mobile GPS, and fleet, plus scheduling controls.
Need the Hubstaff Cadillac plan? An enterprise-focused plan for $20 per user per month gives companies everything Hubstaff offers.
In its review, PCMag, which awarded the app 3.5 out of 5 stars, called Hubstaff a "well-designed tool offered at a good price."
In an increasingly crowded remote solutions market, Hubstaff has found a way to break from the pack. By combining a slew of services in one, the company has attracted more than 10,000 companies to its platform. But the story doesn't end with Hubstaff. As a growing number of companies find even more value in remote workforces, the solutions they rely on from Hubstaff and others will adapt and become more useful. Indeed, the future is bright for remote-work tech. And companies considering a move to a distributed workforce can now rest assured that useful software is waiting—and will only improve over time.