You may be tempted to rely on monitoring software to effectively manage remote teams, but it isn't the most effective tool to measure employee productivity.
Companies are adjusting to the new workplace landscape, which includes a combination of in-office and remote workdays, along with flexible hybrid alternatives. Some company leaders and managers have been challenged by certain aspects of this new normal. Chief among those challenges is how to supervise and gauge a teams' productivity, progress, engagement, and general job satisfaction.
Limited (or totally absent) in-office interactions and observations have led managers to try new approaches to team supervision. Some have turned to employee monitoring software like Teramind, ActivTrak, and Hubstaff to track team productivity. Although there are advantages to using such programs, they can also make employees feel like Big Brother is watching. According to a recent ExpressVPN survey, 59 percent of the polled employees reported feeling stress and anxiety about their employer surveilling their communications. In fact, 41 percent of workers surveyed said they constantly worry they are being watched, and 38 percent said they feel more pressure to be active online than to be productive.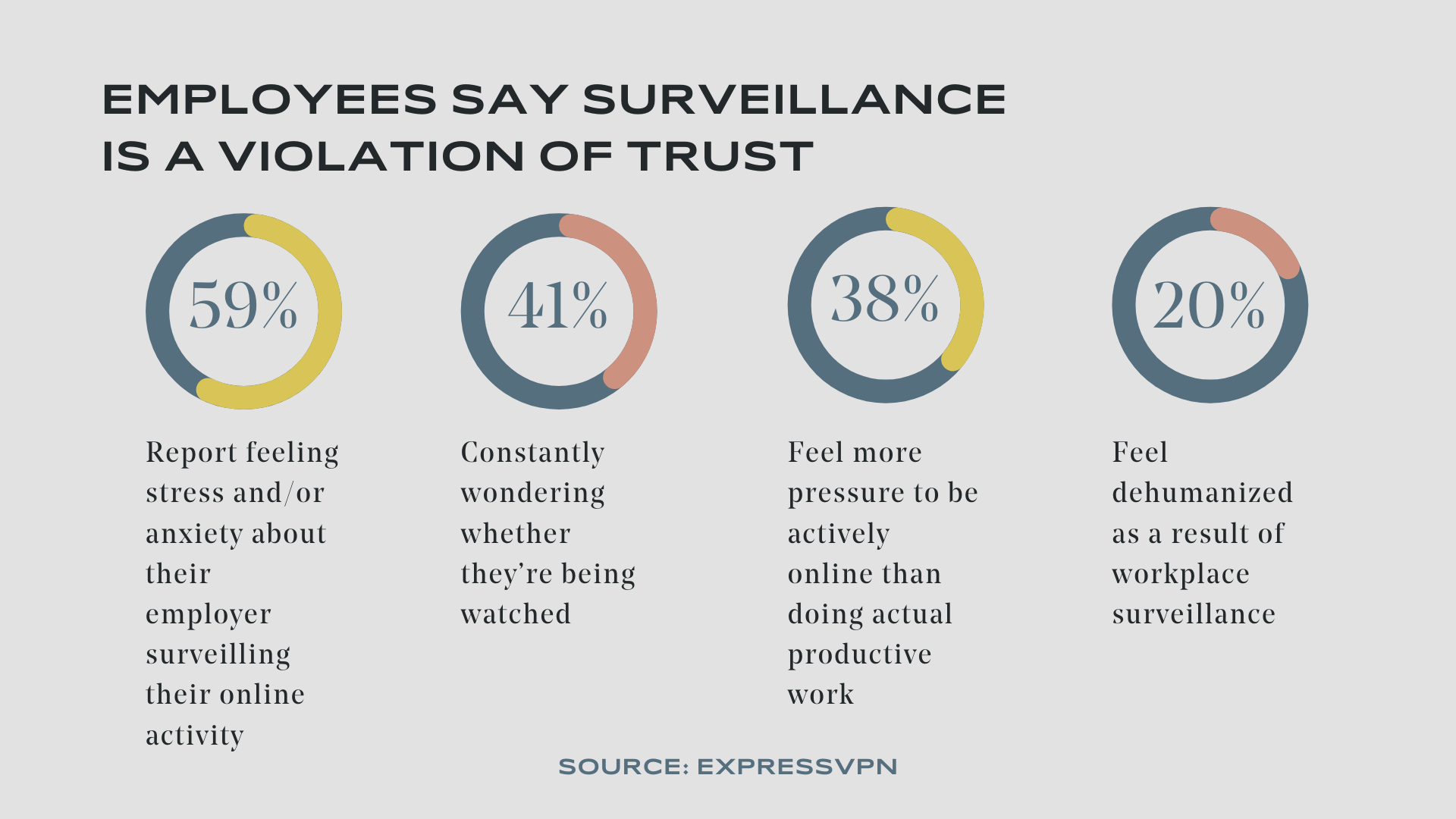 So how can managers leverage employee monitoring programs to help their remote and hybrid teams succeed without creating an antagonistic environment or being seen as plain old creepy? Achieving this delicate balance requires leadership to promote transparency and engage in constant communication.
Employee Monitoring as Espionage
First, let's take the August 2021 Xsolla fiasco as a cautionary tale. The payment service founded in Perm, Russia, was embroiled in a very public debacle prompted by CEO Aleksandr Agapitov. Via email, he laid off 150 employees for being "unengaged and unproductive," according to a translation of the message to employees posted on Game World Observer. Unbeknownst to Xsolla employees, Agapitov had culled employees' productivity data from Jira, Confluence, Gmail, chats, documents, and dashboards.
This management disaster quickly became a case study of what not to do when assessing employees' productivity.
Microsoft, Slack, Teramind, and Hubstaff, among other monitoring programs, allow managers to see data reports that include their employees' digital activity. In addition, managers have the ability to take screenshots of employees' desktops, to listen to microphones or recordings, and even to read private emails and chats.
As a leader, you need to ask yourself, "How is the office ecosystem going to react to this?"
Surveillance in Moderation
Employee monitoring data is not giving you the gestalt of an employee's performance. Employee strengths like creativity, communication aptitude, innovative problem solving, and the ability to work collaboratively and meet deadlines can't always be quantified through data. So if you choose to use data culled from monitoring software, understand it can be one of many helpful tools, but it's not the only tool to assess productivity.
In 2020, Microsoft apologized for enabling a user-by-user productivity score feature in its products. The initial intent was to provide insights into organizational structure and productivity; instead, the software allowed managers to access individual employee data and use it as an indicator of work performance. Microsoft has since changed the productivity score metric to disclose only aggregate data.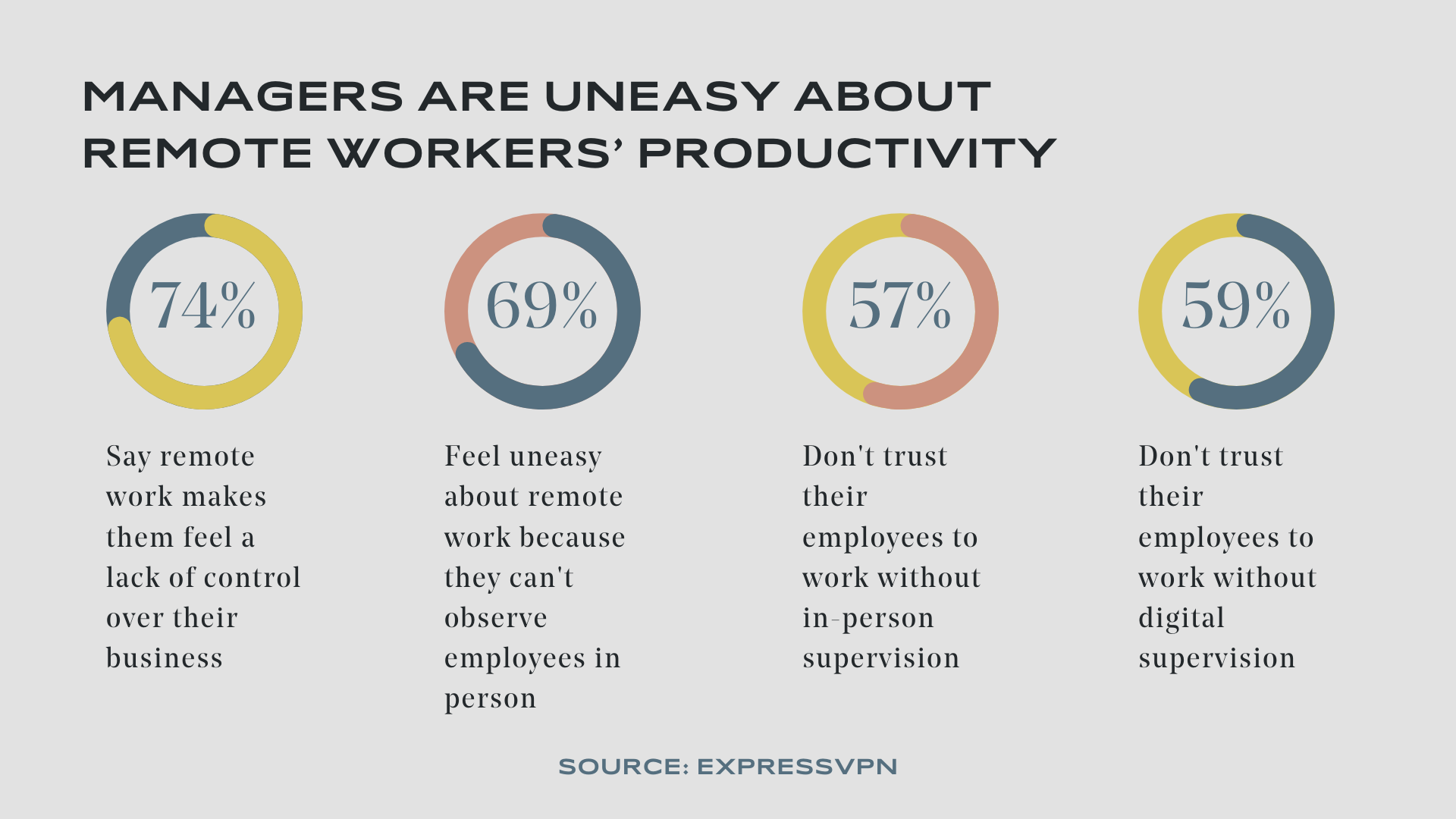 If your company chooses to use employee software to monitor electronic activity, it is wise to do so transparently. Use the data for the greater good of your company rather than to assess an individual employee's worth. Emory Roane, privacy counsel for the nonprofit Privacy Rights Clearinghouse, explains that the distinction between monitoring and surveillance lies in whether or not an individual employee has the right to choose not to participate.
Employees should be given a written outline of company monitoring policy and applicable state laws. As Paramjit Nayyar, CHRO at Bharti AXA General Insurance, says, "If the industry and the nature of work so require, we can use such technology but with the consent of the employees."
Even if your company uses employee surveillance only to secure assets to thwart cyberattacks and information leaks, it's important to state so to employees.
Know the Objectives
Communication is crucial when managing hybrid teams. To improve organizational productivity, clearly define goals and delegate tasks to your team members, ensuring they know assignment scope and deadlines. Project management tools such as ClickUp and Asana feature transparency of goals, timelines, and deliverables as effective methods of measurement.
In the virtual or hybrid working environment, managing a remote team often involves knowing when to intervene. It's a good idea to allow employees to be accountable for their actions. When your productivity measurement tools show they fall short of their goals, have a personal and constructive conversation about what's blocking progress in the employee's work, using collected data only if it's helpful.
Communicate directly with employees working at a remote job. A good old-fashioned phone call can be a welcome change from electronic communication, and software such as Zoom and Google Meet creates a safe space in which to interact personally.
Healthily demonstrate authority by making employees aware of the effects of their work on the overall organization and be specific about the things that may need to change. Bryan Miles, CEO of Belay, advises remote leaders to effectively communicate the why of assigned tasks since hardworking employees will be able to fill in the what, when, and how once they understand the purpose.
The key is to address the matter early, personally, and with clear objectives for change and performance.
Lead for the Workplace of Tomorrow
An impactful step you can take to keep your employees feeling more supported than monitored is to prioritize organizational flexibility, employee well-being, and goal attainment over bureaucracy. Donald Thompson, CEO of The Diversity Movement, writes in an article on the future of leadership that a supportive environment encourages employees to learn from their mistakes, rather than hide from them during times of transformation. When you do this, better problem-solving and decision-making skills are likely to emerge.
To stay competitive, companies need to cultivate leaders who can solve problems, make decisions, and are excited about integrating technology to accommodate the ever-changing needs of the workforce. As a leader, it's important you are informed of technological advances and acknowledge when there is room for improvement in overall operations.
Transformation Is Not a Clearly Defined Process
During transformational periods like the one we're all currently experiencing, be mindful of the present circumstances. Understand that everyone is transitioning, adopting and adapting to new skills and tasks and operating under pressure to conform to new norms.
Being empathetic with employees, communicating with them clearly, and allowing them to be accountable for their job performance are all a part of being a leader. Using data monitoring software is not a shortcut.
As wrkfrce CEO Jesse Chambers says, "Yes, given some of the tools and analysis that remote work puts at the fingertips of leaders, they may be able to make critical decisions based on data analysis—and that's their prerogative—but that doesn't mean they can ignore basic principles of sound leadership."