Picture this: You're sitting at your desk once again, leaning forward, trying to be heard. "Are you there? Can you hear me? Make a sign if you can," you say, in the clearest voice possible, as a general sense of gloom pervades.
There's a reason many people have started comparing traditional Zoom meetings to modern-day séances and why Zoom fatigue has become a well-established phenomenon acknowledged by the medical community. Whereas "modern-day séance" may be an interesting idea for your socially distanced Halloween party, it's probably not what you had in mind for keeping your colleagues engaged and energized during a planning or strategy meeting.
If only there were a way to have a meeting with your team without hosting yet another Zoom sit-down. Oh, wait! There is! Walking meetings, during which participants are on the move as they discuss the issues of the day, are gaining popularity. In a remote work environment that increasingly values flexibility and work-life balance, walking meetings can be a great fit for you and your team.
But what makes a walking meeting work, and how can you host one that suits your team? Let's take a look.
What Is a Walking Meeting?
Any fan of the made-for-TV political drama The West Wing has seen a walking meeting, even if they didn't realize it. Viewers may remember the cinematic "walk-and-talk" scenes from that series or from virtually any Aaron Sorkin production in which colleagues discuss high-level issues while walking from one location to another.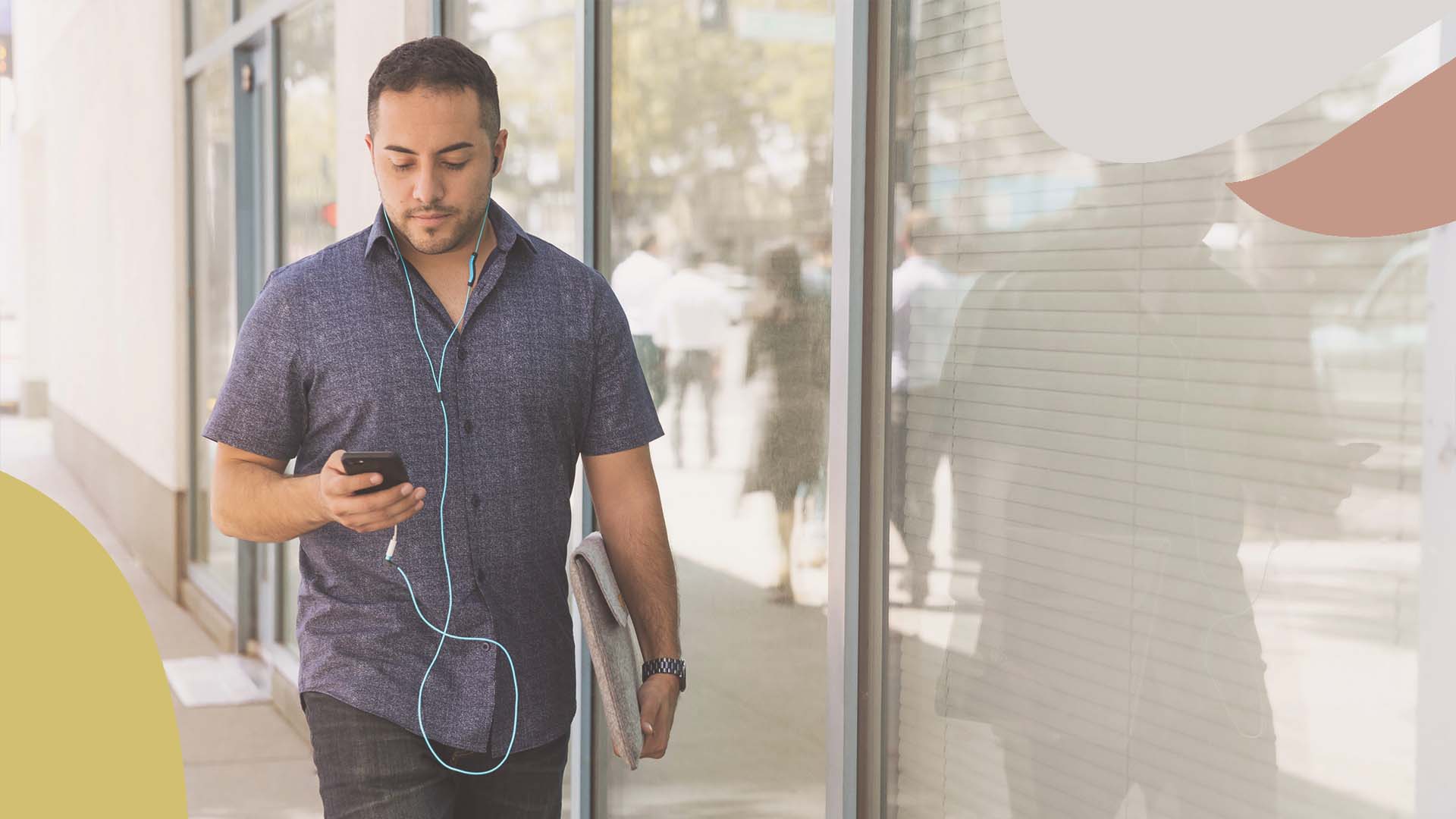 Now, this might seem like a surprising style of meeting for a team of remote workers, but it's actually an ideal one. And you don't need to be President Bartlet or C. J. Cregg to host a perfect walking meeting. Remote work can sometimes feel isolating. A meeting on the move can be a great chance to not only see and hear your team, but also take in some new scenery, get some fresh air, and allow everyone to stretch their legs. They can be held in person, over video, or simply via phone.
In addition to avoiding the dreaded Zoom fatigue, walking meetings offer a whole host of health benefits in and of themselves, as Georgetown University professor Wayne Jonas, MD, writes in a Psychology Today article. "We need to move," he advises, noting that regular exercise and spending time in nature can reduce mental fatigue, restore focus, and improve mental health.
For more than a decade, Nancy Corbett, has been managing a remote team of communicators across four states for Mercy health care system . She began walking phone meetings with her staff last year because "We were knee-deep in the pandemic, and everyone was feeling frazzled and depleted. I needed to come up with an idea to keep us all motivated and moving."
A year later, the weekly meetings with staff members are still going strong because Corbett and her team value the walk and talks. "They keep us engaged in ways that video meetings or traditional meetings don't. The walking reduces stress, and we can cover everything we need to discuss while getting in some exercise."
Many people hesitate to plan a walking meeting because of concerns about technological glitches, but they needn't worry. As Chase Warrington, a wrkfrce expert and head of business development at Doist, notes, even technology is catching up to the value of walking meetings. In a recent social media post, Warrington shares his experience using the Spot meetings app, which helps improve sound quality and connectivity issues, records the meeting, transcribes the notes, and keeps the agenda all in one place.
Walking, in particular, is great for the brain, says Thomas Nail, a philosophy professor at the University of Denver. He wrote for Salon about how walking increases what neuroscientists call "spontaneous cognitive fluctuations," a phenomenon still under study that syncs up our minds and bodies and can lead to moments of inspiration.
Keeping all that in mind, if your team is already blocking out time to have a meeting, making it a walking meeting can, as Corbett notes, combine that into an exercise break—and that break may prove inspirational. What's not to love?
Set Your Agenda Beforehand
As with all meetings, before you start a walking meeting, make sure everyone knows what's going to be discussed. Obviously, walking meetings are not a time to share slides or show data. It's also important to set a time limit for your meetings, as everyone has their limits and no one wants to deplete energy in an overly long meeting! Additionally, you likely won't have a physical notepad with you while walking, so consider the option of keeping meeting notes on your phone if necessary. If you don't have the Spot App to help out, consider having an assistant sit in on the call and take notes to be sent to all participants later.
Stay Flexible
Everyone knows that a good meeting requires a certain amount of flexibility, and that goes double for a walking meeting. Depending on how spread out your team is, you may want to arrange to walk and talk as a group in a local park or on a hiking trail. If members are participating from different locations, have them pick their own nearby park, trail or gym. Remember that nature is beautiful, but can also be unpredictable—as can videoconferencing. Corbett mentions that her team has to adjust phone meetings when heavy winds make it difficult for meeting participants to hear. In the event of a sudden downpour or a glitch in the technology, it's important to roll with the punches and have a backup plan to reach out later should the meeting be interrupted. And don't forget that not everyone lives near a quiet, scenic park and some members may prefer to walk at a gym or on their treadmill. Noise can be an issue, so expect it and allow flexibility for team members who are in a noiser place than you.
Wrap Up On a Light Note
You've had a meeting and a workout—now it's time to end with a smile. Outdoor meetings can lend themselves to spontaneous happy moments, even on a global scale. Michael Higgins, the president of Ireland, delighted the world when he gave an outdoor briefing with a cameo from his dog Misneach, a Bernese mountain dog that may not have been on the official agenda but did seem like a very good boy! Though you may want to avoid a scene-stealer like Misneach, bringing a moment of levity to the end of your meeting will send your team off on the right note.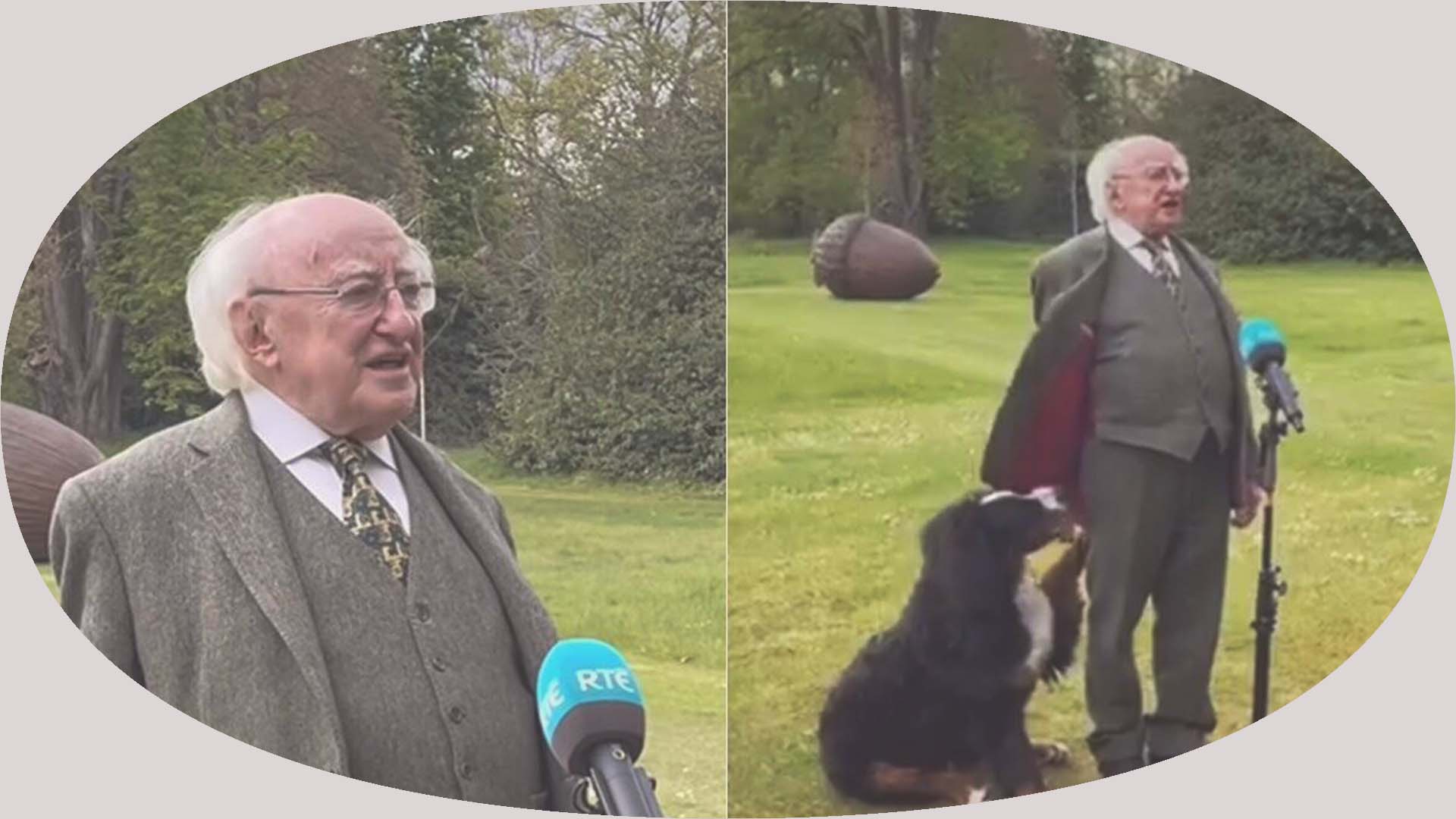 Ask each team member to turn their camera to, or just describe, the best thing they saw on their walk. This provides moment a of reflection that will also make colleagues smile. Or pose a fun question for everyone to answer in turn: "What's your favorite soup?" or "What show are you going to watch on TV tonight?" Ending your walking meeting on a cheerful note, with everyone's endorphins flowing from the exercise and discussion, will send you and your team back to the desk refreshed, energized, grateful for the change of scenery, and ready to get to work!
Photo Credit: The President of Ireland, Michael D Higgins provided by the Indian Express