Three years ago, I turned down a dream-job offer at a prestigious magazine. The reason? Five remote work days a year. That wasn't going to cut it. As it turns out, I'm not alone. According to research from the International Workplace Group, 53 percent of people in the United States agree that having a choice of work location is more important than working for a prestigious company. What's more, the same survey found that 80 percent of US workers would turn down a job that didn't offer flexible work.
Now that many of us are active participants in the "massive work-from-home experiment," an issue looms for employers of all sorts. What if employees don't want to return to the office in a postcoronavirus world? Recent Gallup polling data show that 59 percent of workers currently engaging in virtual work want to remain in a remote setting as much as possible, even after businesses and offices reopen. Another survey, conducted by Piplsay, reveals nearly two-thirds (66 percent) of people in the United States are "comfortable with a permanent WFH culture." Some 43 percent of respondents to that same survey said they'd prefer to work remotely even after offices begin to reopen.
The Gallup data published earlier this year revealed that only about a quarter of US workers are "emotionally ready" to return to the office. Another quarter continue to fear that they'll contract the coronavirus, and half simply prefer working from home, the research says.
The Pandemic and Healthy Buildings
So, where should employers expect resistance from workers returning to the office?
First is fear of COVID-19. Optimists tout a vaccine or treatment by the beginning of 2021, but there's no guarantee of that. And workers are scared. One way to help overcome this fear is to create a healthy work space.
Harvard public health professor Joseph Allen and Harvard Business School professor John Macomber have been studying healthy buildings for the past three years. In April 2020, they fortuitously published Healthy Buildings, based on those studies; it outlines how healthy indoor spaces can increase productivity and performance. Now more than ever, the burgeoning movement to create healthy physical buildings and workspaces is crucial.
"Regardless of what governments say, right now we are still in a place where 'work from home' is the priority for workers [who can do so]. It's the best hazard mitigation," Allen told the Atlantic in May. "That companies need to figure out how to bring people back safely is obvious. But that is different from the when."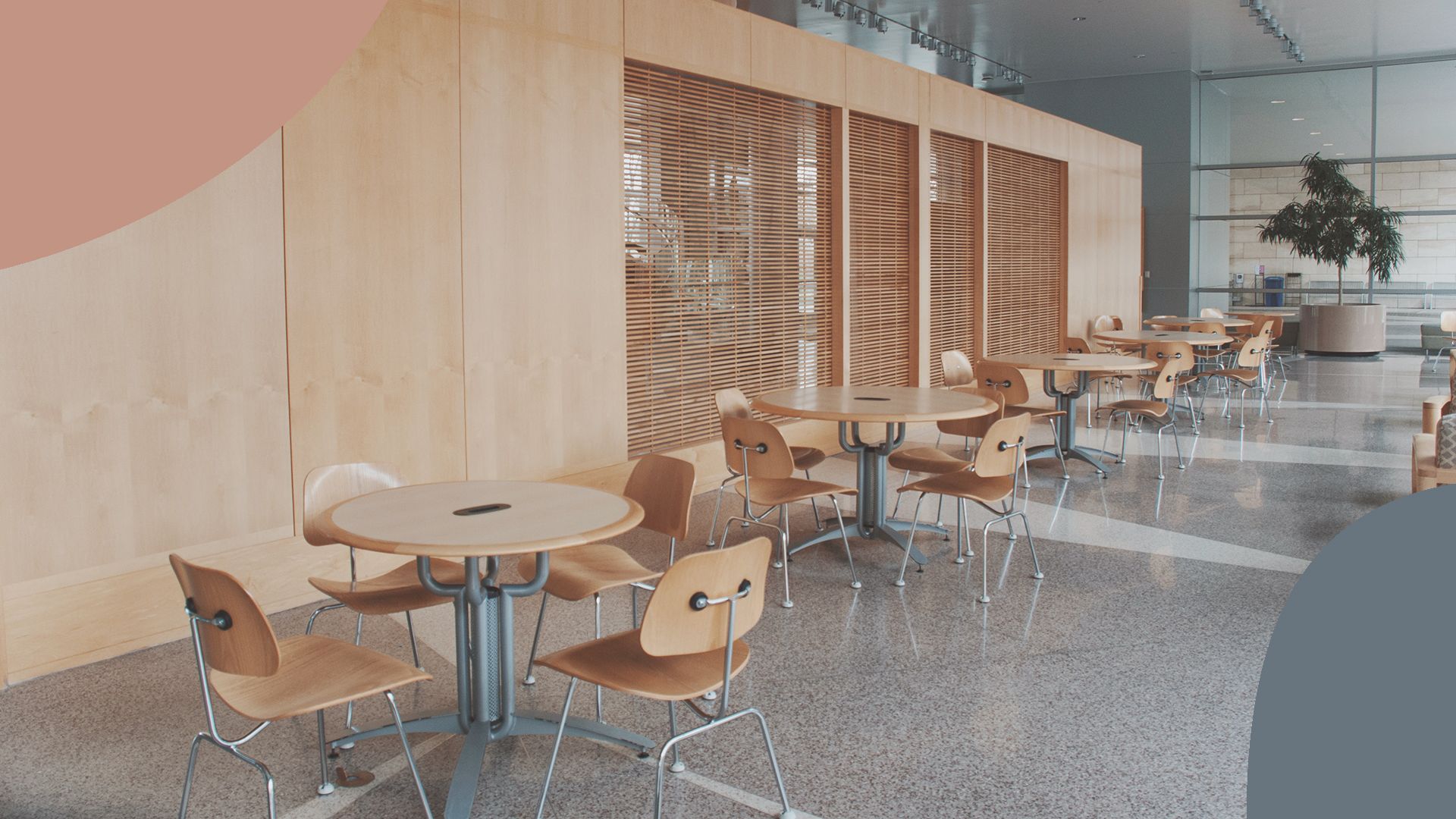 Macomber and Allen discuss returning to the office safely in this Harvard Business Review article. There is no such thing as zero risk, the researchers say. And employers should be up front with employees about that reality. That said, Macomber and Allen propose a hierarchy they call "minimizing risk in the workplace." Imagine a pyramid. At the base is everyone working from home—an action with a potentially high impact on the business but also high effectiveness in controlling coronavirus spread among employees. This and the other levels are described below.
Elimination of exposure:
Everyone works from home.
Substitution activities:
Level two. Only "critical, core workers" are onsite. Teams remain physically isolated.
Engineering controls and healthy building strategies:
Level three. Develop "healthy building" strategies like improving air quality and ventilation, and increase cleanliness, especially in restrooms.
Administrative controls:
Level four. Create social distance using timing (staggering employee arrival) and space (rearranging offices and desks to maintain six feet between workers).
Personal protective equipment (PPE):.
Top of the pyramid. Ensure that employees wear masks in the building, as well as to and from work.
Note that some states already require employers to make adjustments similar to the pyramid. In Massachusetts, for example, employers are allowed to bring only 25 percent of their workforce back on site, and everyone must adhere to social distancing and hygiene protocols.
Commuting and Well-Being
Research shows that commuting impacts how people feel and perform at work and home. Well-being decreases when commute times increase. Commuting via walking or biking doesn't negatively impact well-being, but driving and taking public transportation do. "A lot of people like having a short distance between their home and place of work," Cristina Banks, director of the Interdisciplinary Center for Healthy Workplaces at the University of California, Berkeley, said in an interview.
However, it's not just the lack of commuting that makes remote work more attractive and employees more resistant to returning to a structured environment; it's also remote work's flexibility and autonomy. "When people lose autonomy, they also lose well-being," Banks pointed out.
Greg Caplan, CEO and cofounder of Remote Year, sees it the same way.
"Coronavirus is going to expose more people to working remotely than ever," he told Fast Company in March. "Most people will see that it is very possible and [will] start to grow accustomed to the benefits of [remote work], including autonomy, no commute, and [fewer] distractions than open offices. Companies that don't allow remote work already are going to have to continue supporting it going forward, now that they have proven to themselves that it works."
Flex That Schedule
Flexibility is one of the most popular reasons people love remote work. In Buffer's State of Remote Work report, some 32 percent of respondents listed a flexible schedule as a top benefit of virtual work—more than any other benefit listed.
So it's no surprise that flexibility is important to consider when transitioning employees back to the office. In the State of Remote Work report, the ability to have a flexible schedule and the flexibility to work anywhere were the two "biggest benefits" of remote work. On the other hand, in the same report, workers noted loneliness as one of the biggest struggles they face.
"People are being told to work from home," Banks said. "Remote working also involves social isolation. And so does working from home. And a feeling of belonging is another basic need of people."
Even before the coronavirus pandemic, workplace flexibility was an increasingly important factor in attracting and retaining top talent. These days, work-life balance has transformed from a "perk" into an expectation. As you look to move at least some workers back on site, think about a flexibility-autonomy sweet spot. It may be wider than you once thought. And you don't want to get left behind as competitors prioritize flexibility to attract and retain top talent.
Speaking of which, be prepared to be adaptable in your management. Your employees are likely to need some added support going forward. Keep an open dialogue about what's working and what isn't, and adjust accordingly. In the meantime, have you tried yoga? We hear it helps build strength and flexibility—both key to managing a dynamic workforce.