For people in remote jobs, the kitchen can fuel energy, productivity and help cut costs.
One perk of working from home is having regular access to your own kitchen. A question remote workers should be asking themselves is, "How can I use my kitchen to improve my health and feel better at work?"
Everyone knows the importance of having a good home office setup when working remotely. And, of course, being able to roll from your bedroom to the office is something many people love about their remote jobs. But did you know that there's an enormous advantage to having access to your kitchen throughout the workday? It's true.
The link between physical health, mental health, and healthy eating is well known—that's why you'll often see eating well touted as an important aspect of self-care. However, it can also improve your work performance, by increasing your energy, boosting your productivity, and keeping you focused on your task list.
Food is the fuel that gets everyone through the day, no matter where or how they work. And the kind of food matters. Unbalanced meals laden with sugar and fast-digesting foods can leave you tired, distracted, and tempted to take an afternoon nap. Meanwhile, four to five well-spaced meals throughout the day consisting of slow-burning carbs, high-energy proteins, and lots of nutritious vegetables not only keep your stomach satisfied, they'll also keep you energized for that 2 p.m. call.
In fact, the British Journal of Health Psychology found that eating more fruits and vegetables both increases employees' sense of purpose at work and leads to a 25 percent improvement in job performance compared to workers who skimp on produce. And it's much easier to consume these fruits and veggies when there's a well-stocked fridge nearby. Even better, no cooking required—all kinds of produce can be enjoyed without ever turning on a burner!
All of this makes your kitchen one of the best remote work tools you have.
Pick the Best Meal Prep Box for You
You don't have to be a foodie or an aspiring chef, but if you're like most Americans, you have at least some interest in cooking. Meal prep boxes are more popular than ever, giving remote workers short on culinary skills a handy head start. There are a wide range of meal delivery services for different dietary needs, experience levels, and taste buds—you just need to pick the one that's right for you.
Consider Blue Apron, which takes its name from the apron chefs-in-training wear and targets beginners with creative meal kits. Want to concentrate more on things that grow than packaged items? Say hello to Hello Fresh, which—you guessed it—features fresh ingredients.
But what if you prefer to skip all the boxes and delivery fees in lieu of shopping from your local grocers? You can still get online meal prep assistance through sites like Lighter, where a team of influencers helps you build tasty recipes and shopping lists while emphasizing environmental sustainability.
You can even cook while you work! Sound crazy? Not at all. With a Crock-Pot, Instant Pot, or even a regular oven, you can use a 15-minute break to prepare a dish, set it to cook, and have a delicious homemade dinner waiting by the time you finish work—all just steps away in your kitchen. Even famous chefs are in on the one-pot concept—Yotam Ottolenghi's recent cookbook Shelf Love is all about crafting high-quality meals around a busy schedule using pantry staples. Check out his recipe for confit tandoori chickpeas for a protein-packed, vegan-friendly meal that you can make while wrapping up the day's tasks.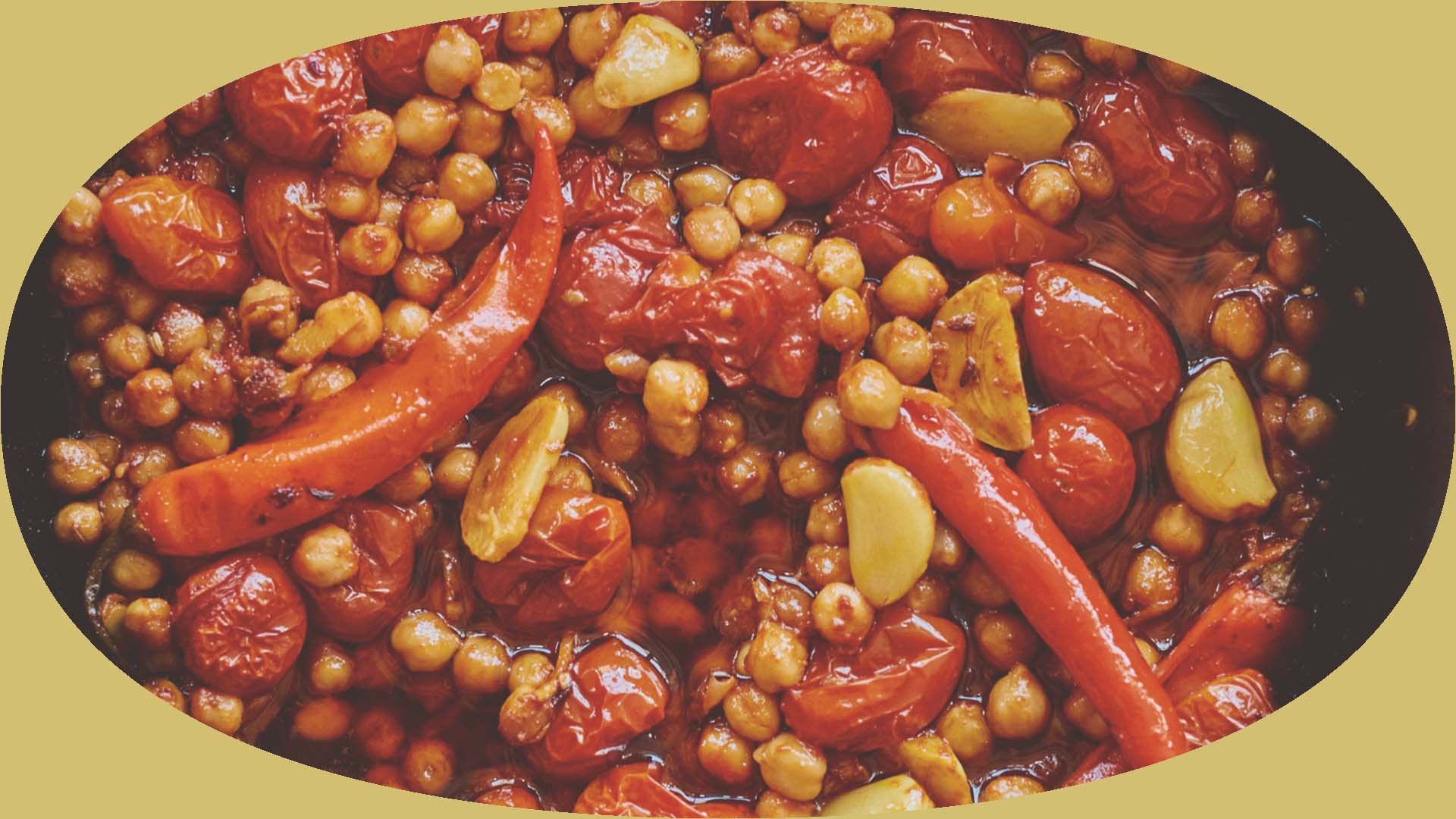 Kickstart Your Day with Energy
The first meal of the day is often overlooked. Walking from the kitchen to your desk can hardly be considered a commute, so there's more opportunity as a remote worker to enjoy a healthy breakfast complete with protein, complex carbs, and your beverage of choice. Kick-start a productive, successful day with whole grains, lean protein, some fresh fruit, a lot of water, and a cup of coffee.
Then, after a few hours of work, make lunch your main meal of the day, a practice that's been linked to increased energy, well-regulated blood pressure, and weight management. Substituting heavy meats and carbs with low-carb, vegetarian, or plant-based options will avoid drowsiness and keep you raring all afternoon.
Here's a suggestion for a well-balanced, focus-driven lunch: Add some of last night's leftover grilled fish or baked tofu to a fresh bag of salad greens, toss in some nuts and sliced veggies and fruit, then dress the dish with a squeeze of lemon and a drizzle of olive oil. Your system will be recharged for the afternoon's research project in no time.
And one more argument for profiting from your own kitchen's bounty: In addition to nourishing your body for maximum effectiveness and focus, you'll be saving yourself time and money. Back at the office, the average American who goes out or orders in for coffee and lunch spends an eyepopping $3,000 per year. That's a costly office-related expense!
Cooking, Eating, and the Hybrid Worker
If you go into the office a couple days a week, fear not—hybrid workers can also take advantage of their kitchens through the powers of "batch cooking," which makes the most of your time by yielding several meals from a single prep session.
Just follow the #mealprep hashtag or any of the hundreds of social media accounts that offer weekly suggestions for all kinds of make-ahead meals, be they low-carb, plant-based, kosher, halal, or more. One of our favorites is @how2mealprep on Instagram, to guide you toward incorporating variety into your weekly meal prep.
Remember the slow-cooking approach mentioned earlier? The rich soups, stews, and curries that result can all be prepared in large quantities, keep well, and can easily be transported in an airtight container for a tasty lunch or snack. Other healthy snacks from your fridge include hummus and turkey roll-ups, cheese wedges, and Greek yogurt. Consult the multitude of meal prep blogs out there for even more ideas.
Eating more meals prepared at or brought from home even a few days a week establishes a healthy pattern that will sustain you throughout the week. Once you get your body accustomed to being treated well, the benefits will carry over into your physical and mental health every day.