Companies must create a better work-life balance in hybrid work to allow more women to stay in and lead the workforce, the Nooyi book says.
When Adam Grant interviewed leadership powerhouse Indra Nooyi, former PepsiCo chair and CEO, on his popular podcast series "Taken for Granted," we picked up on some profound messages about the future of work and what real leadership means in these challenging times.
For those of you who may not already know, Grant is an organizational psychologist and one of the most popular professors at Wharton. He is also the author of Think Again: The Power of Knowing What You Don't Know and the host of the popular TED podcast "WorkLife."
Nooyi broke every barrier she faced as a female and immigrant in business. She has consistently been ranked one of the most influential and powerful women in the world. Now retired, Nooyi sits on the boards of Amazon and the World Economic Forum. She recently published her memoir, My Life in Full, which prompted Grant to explore her leadership wisdom.
Listen to the podcast here and read the transcripts of the conversation here (Part 1) and here (Part 2).
Here are a few things that caught our attention in the discussion.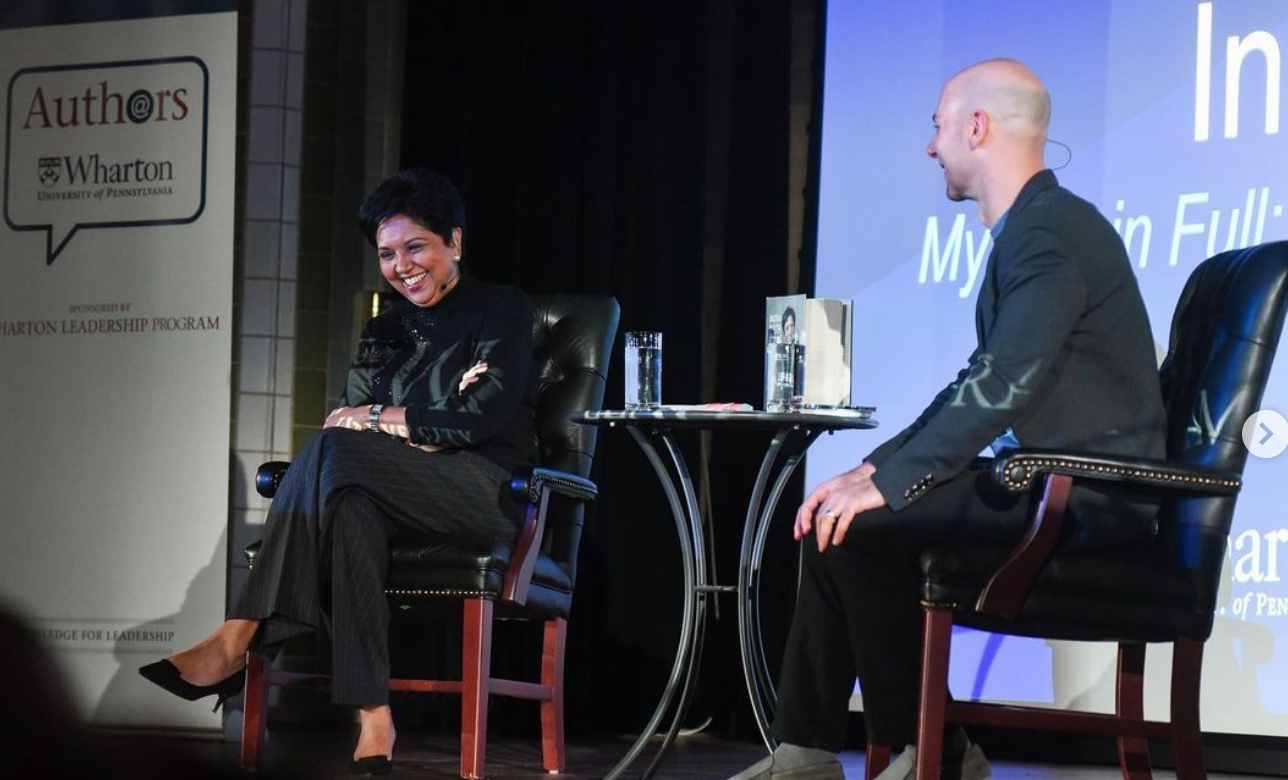 photo from indranooyi.com
Reimagining the Ideal Worker
Grant questioned Nooyi on why—despite mounds of evidence that employees with more flexibility are more productive, more satisfied, and overall better candidates for leadership—CEOs are holding on to the idea that people who are not in the office are not committed to their work. He asked why is there such a struggle to reimagine the ideal worker.
Nooyi's response was spot-on:
The biggest gap, I think, in all discussions on the future of work—talk about robotics, technology, disruption—it does not talk about family. It doesn't talk about women, young family builders who are all central to this idea of the future of work. Okay? If you don't have enough women in the workforce, you're not going to have jobs filled.
Women are getting college degrees at 10 points higher than men. They've got a whole point of GPA more than the men in STEM disciplines. Seventy percent of high school valedictorians are women.
"Today, in a knowledge economy, the country is going to succeed by having the best and the brightest come to work. So we have to give women the choice to come into paid work." - Indra Nooyi
We've got to grease the skids for them. Instead, what do we do? We put barriers up to them and say, 'You know, if you have a kid, that's your problem.'
That's why they're delaying having kids. So I come back and I say: The day we include families and women and young family builders in our discussions on the future of work, I think everybody's sensibilities will improve.
Avoid Disparities by Setting Schedules
Grant asked: How do company leaders address the concern that a focus on families in the corporate world and hybrid workplaces will mean that certain populations, possibly more men and people without families, will have an unfair advantage because they will have more face time in the office?
Nooyi responded: I think we are in the most tricky part of that discussion right now. How is hybrid work going to work? Should you give people the choice to decide how to deploy the hybrid days? Or do you mandate for groups of people to come in certain days and others not to come in other days?
She suggests that employers set the schedule, determining how many people are in the office each day, without requiring everyone to be in the office five days a week.
The reason I'm saying this is because that's the only way you're going to avoid the men going into the office and the women staying home and working flexibly and having trouble balancing all of the priorities.
Because Grant's response to this was so perfect, we'll quote his question directly: I love that vision. The metaphor calls to mind another challenge, which is too many of those little republics are run by miniature dictators who are, are basically power-hungry and trying to get their employees to sell their souls and work nonstop and not care about their families. This is another huge issue for you. I think the challenge is where to start, right? So are we going to reimagine organizations and say, forget the 9-to-5 workday, forget the five-day workweek?
Where, where would you begin if you were rebooting? Grant asked Nooyi.
Nooyi answered, The pandemic is forcing us to rethink everything. You can't take what people are saying today as the answer, because we went from everybody going to work to everybody in lockdown. We're trying to figure out what's the resting point. We don't know what it is. … I think what is not possible is for everybody to say 100 percent come back to work because people have gotten a taste of caring for families, having some flexibility.
"Technology has accelerated to a point that allows hybrid working, flexible working, and to make it work effortlessly" - Indra Nooyi.
Nooyi noted that women need to work together to help create a work atmosphere that allows more women to remain in the workforce. It's critically important that women stay in the workforce. We don't want the best and the brightest … to drop out of the workforce, not because they want to, but because the workforce does not accommodate that.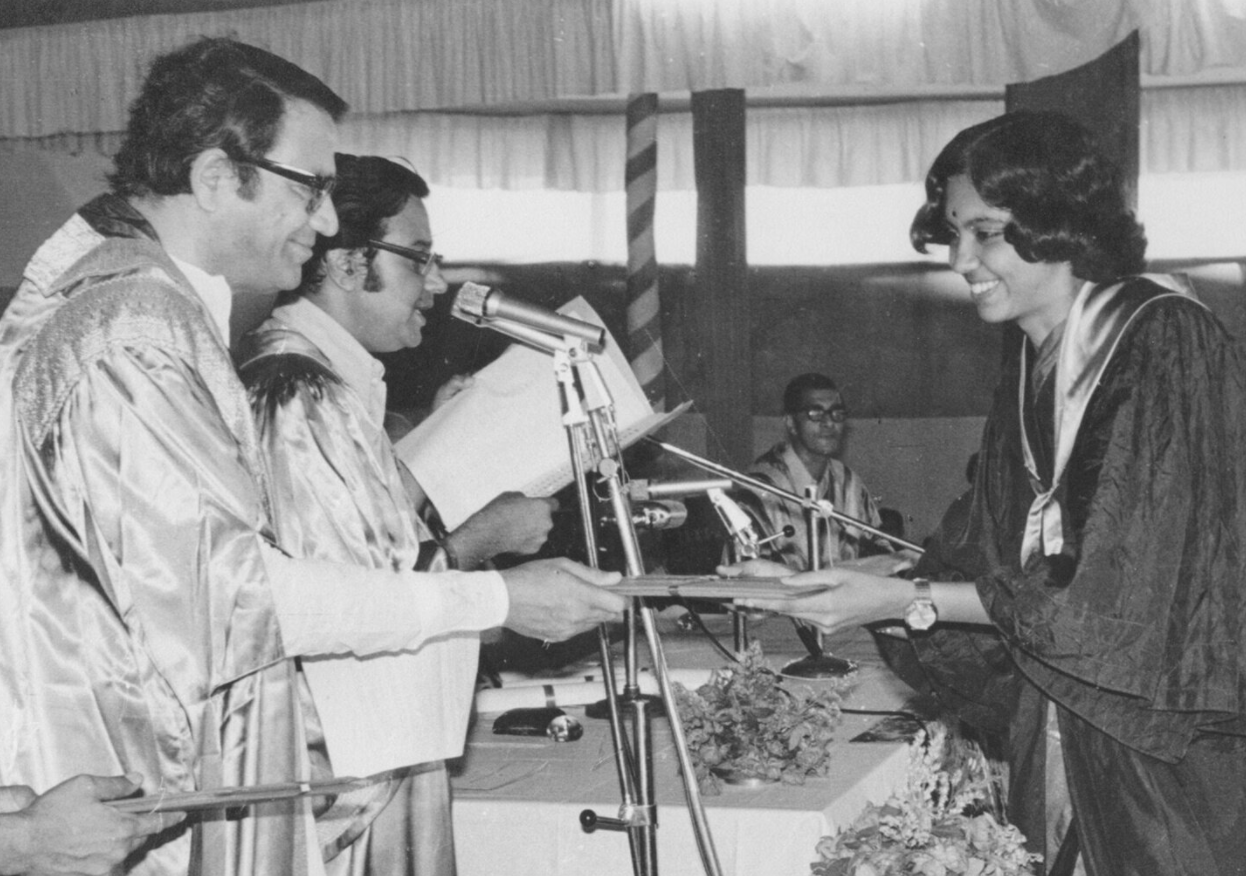 Indra receiving her master's degree from the Indian Institute of Management Calcutta. Photo from indranooyi.com
Nooyi's Guidance for Success
Nooyi has had some incredible achievements throughout her career. Her memoir is filled with inspiring tales of the hard work and dedication, as well as the vision, that helped her to reach her goals, one by one.
Here are five pieces of Nooyi's advice we found most compelling and useful for young professionals:
As you embark on your job, volunteer for the most difficult assignments. "Nobody remembers you for doing and maintaining an easy assignment."
Focus on the job you have. Give it your all. Stop thinking about the next job and the ultimate job.
Understand company politics, but do not play in the politics.
If you want to lead, understand your underlying discipline, and understand business, too. "At the end of the day, you have to start at the bottom, because you've got to understand why people are doing what they're doing before you can make decisions that impact their life."
Think hard about time. We have so little time in this world and how you spend that time, how you balance the time, how you work your life around that time is going to be one of the most critical things that you do going forward.
Don't ask yourself what you want to do in the world, ask yourself what you want to be in the world, ask how you want to be remembered.