Whether your children sleep in a crib or are still squatting in yours, most parents would not hesitate to take any opportunity to spend more time with them. Nearly half of all workers in a recent survey cited their ability to spend more time with family as a primary reason for wanting to work remotely. But too much of a good thing does exist.
Given how many of us are now working remotely, how can you advance—or simply maintain—your career from home and still be the awesome parent everyone (except maybe your kid) knows you are? It helps to be aware of the challenges that come with fulfilling both duties in close proximity.
Mom the Manager
Before you think about the day-to-day, pragmatic fundamentals of successfully working from home as a parent, consider how the mass shift to remote work is affecting mothers and fathers differently. When you understand how your partner is managing these responsibilities, you can better succeed both professionally and as a family unit.
In the study "Raising Kids and Running a Household: How Working Parents Share the Load," Pew Research Center found that although more than 8 in 10 parents sometimes feel too rushed by work to spend enough time with their children, the feeling is particularly acute among mothers: About 40 percent say they "constantly" feel that way. What's more, the study revealed that mothers are twice as likely as fathers to say that the demands of parenting interfere with their career advancement.
Interestingly, companies that employ a large remote workforce are four times as likely to have women in leadership roles. Of those women, 72 percent are parents or caregivers. How do parents (and particularly mothers) navigate the threat of being spread too thin to continue advancing their careers?
Creating a set routine and schedule is paramount—especially now, in our pandemic state of simultaneously working, parenting, and teaching from home. "Use your remote work setup to create flexibility that's meaningful to you—to do school drop-off, for example, or to get to soccer games—but keep a firm schedule and habits, too," writes Daisy Wademan Dowling, founder and CEO of Workparent, in the Harvard Business Review. "Start work at the same time each day. Wear what makes you feel sharp and confident. Limit breaks to the same length and frequency as in the office."
And provide access to that schedule to more than just your coworkers. "Consider sharing your work calendar with family," advises a GitLab guide to parenting as a remote worker. "This can be done via a subscription to one's digital calendar, having a screen in a common living space that mirrors one's work calendar, or via handwritten notes affixed to the refrigerator. By knowing when a parent is in a meeting or heads down in focus time, it relieves the burden from the parent to continually update family on their status."
Go to Your Home Office Right Now, Young Man
Kids can often interpret a parent working in the home as an opportunity for more playtime or an arbitrator on hand to settle the next sibling dispute. Allowing the line between family time and work time to blur not only increases distractions—whether diaper blowouts or persistent requests to borrow the car—but can also lead to confusion or other unintended reactions on the part of children. It can be tough for young kids to understand when Mom or Dad is on a client video call. Zoom bomb, anyone? And if you're like many parents experiencing remote work with kids at home for the first time, that new makeshift office space might be obvious to you, but to an 8-year-old, it's still just a common area they've always been able to occupy.
Setting clearly defined places and procedures—this corner table as your new desk; that block of time as your consistent "no interruption" span—is a good idea for anyone working outside a traditional office, one that will benefit both your productivity and your relationship with your children.
Another good idea is to create zones—areas in the home dedicated to specific activities. For example, if both parents are working at home, the guest room could be designated as one work zone, the mudroom another, the basement as the kids' recreational space. Your office spaces don't need to be fancy or formal, but mapping out your residence to accommodate current needs will plainly communicate to your family members where work happens and where play happens.
Calling All Able-Bodied Helpers
Of course, locking yourself in a room to diligently attend a few virtual meetings and pound out some emails can quickly become a problem if you just left Junior with Netflix on autoplay and a vague comment about snacks in the pantry. It's one of the seemingly simplest, yet often most challenging, questions for parents working at home: When you're working, who's watching the kid?
Many parents simply can't rely on their spouse or partner to be available during the day to shoulder childcare responsibilities, because in nearly half of all two-parent families, both parents work full-time. And what about all the single parents out there working from home who don't have a coparent to rely on? For families with the means, nannies are a popular answer, including the option to enter into a nanny share with another family to split costs (and would you look at that—Baby now has a new friend). Daycare is another option that's often more cost-effective than a nanny, and it's a great way to socialize your kids to boot.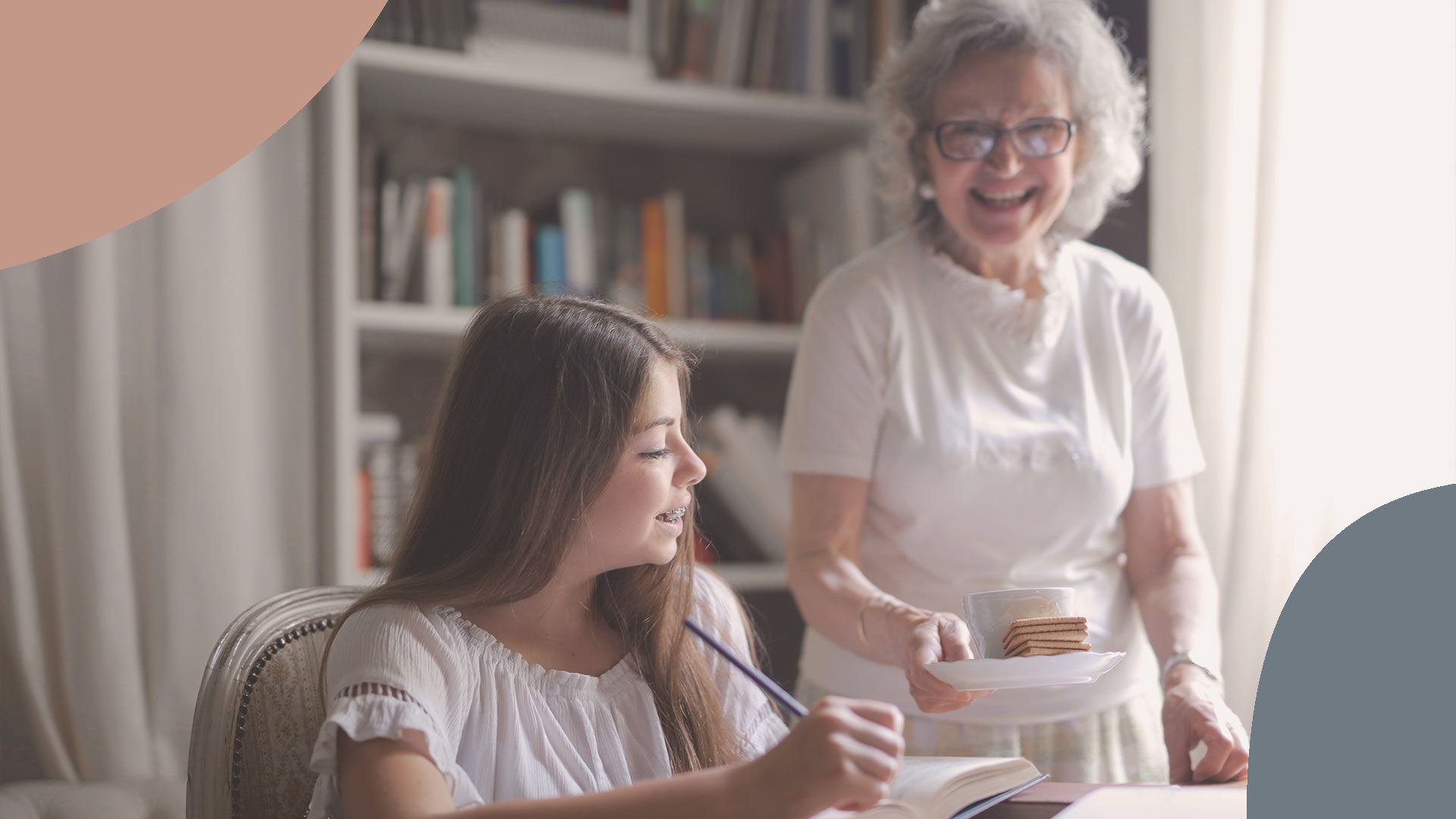 Nevertheless, professional care, shared or not, puts a substantial dent in any budget. So if you have family members who live nearby, explore this source of potentially free babysitting by asking a grandparent to come by for a few hours at specific times or days of the week. Not only would this grant you a dependable time period of peace and quiet to accomplish tasks, but it would cost you much less for professional childcare during your remaining working hours.
The next-best thing after free is cheap. You know who will watch your kids—at least kids who aren't still babies—for cheap? Other kids. Ask your friends, local youth groups, or teachers for recommendations on responsible older teenagers and offer the right candidate slightly better wages than the going rate. You'll still save a lot in the long run, and at least you'll know your child isn't taking a walk alone while you're fixated on Excel spreadsheets.
Another option is to create parenting friend groups in which a collective of five families rotate childcare responsibilities each workday. (Obviously, while coronavirus concerns continue to dictate social interactions, you should take precautions with this tactic.)
If you're in a pinch, you can always get creative. Are you a member of a gym? Drop your kid off in the childcare room and take that call from the lobby.
Plan For the Inevitable
Parents know as well as anyone that an ostensibly serene moment can descend into chaos faster than you can Google "guinea pig loose in vent." Having children means that anything can (and probably will) happen, and likely during working hours. Since you can control only so much in a given day, devise a general plan with your kid about what to expect if things go sideways at a critical moment. Practice a fire drill of sorts, so that your daughter knows what she should do when your boss calls about that deadline right as the dog swiped her sandwich off the table.
Speaking of bosses, be up front and transparent with yours about any daily commitments you have as a parent, such as naps or school pickup. Most managers of remote employees understand that certain responsibilities will leave you out of reach for short periods during the week. Alerting your boss to any times you'll be delayed or unavailable will help avoid scheduling conflicts and frustration about lack of communication.
Being up-front with teammates and coworkers is also important, especially those who aren't parents and might not comprehend the enormity of a 2-year-old's meltdown.
The Greatest Job in the World
You surely already know that parenting is a challenging job, even if you get to do it from home. But effectively dealing with the challenges that complicate remote work for parents can allow you to take advantage of the smaller moments that make working from home so desirable. Whether you're enjoying breakfast with your son at the kitchen table, talking with your daughter about her day right after school, or being there as your toddler takes his first steps or forms his first sentence, finding personal fulfillment as a parent will only drive your professional success.
On the other hand, if you're missing those long blocks of quiet, productive time when your kids were at school or in daycare, remember that the pandemic isn't going to last forever. Just as you set boundaries to ensure your productivity during the workday, be sure to commit to turning work off at the end of it. Complete the tasks you need to accomplish in the designated time chunks you've allotted for them so that when you're watching that soccer game or dance performance after-hours, you can truly appreciate all you have.